Conservative Radio Personality Rush Limbaugh Is Dead At 70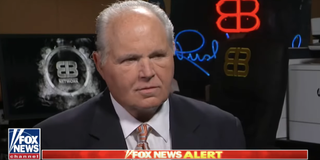 Conservative radio and television personality Rush Limbaugh has died at 70, after a battle with Stage IV lung cancer, which he was diagnosed with in January 2020. The broadcaster was given the Presidential Medal of Freedom during the State of the Union address just days after his cancer diagnosis for his work.
According to Fox News, Limbaugh's death was announced on his radio show by his widow, Kathryn. It was that program, The Rush Limbaugh Show, for which he became famous and was the most well-known for during his time as a broadcaster. It had been nationally syndicated on AM and FM radio stations since 1988, and aired on nearly 600 stations across the country. In December 2019, it was estimated that his show attracted nearly 15.5 million weekly listeners, making it the most listened to radio show in the United States.
Limbaugh also hosted a national television show from 1992 to 1996, and his efforts as a broadcaster saw him inducted into both the National Radio Hall of Fame and the National Association of Broadcasters Hall of Fame. He was also the author of seven books, and saw his first two, which came out consecutively in 1992 and 1993, make it to The New York Times Best Seller list. The radio personality was also one of the highest paid such figures, and in 2018 Forbes determined that he'd made $84.5 million.
Limbaugh has been involved in a number of controversies during his career, which go beyond his views on many political issues. In 2006, he accused actor Michael J. Fox, who has Parkinson's disease, of faking his symptoms while filming a political television ad which promoted the funding of stem cell research. In early 2012, he called law student and women's rights activist Sandra Fluke a "slut" and a "prostitute" while discussing her speech to House Democrats which supported making insurance coverage for contraceptives mandatory, which led to the loss of several local and national sponsors for his show. And, most recently, he claimed that the coronavirus was just the common cold and had been "weaponized" in order to bring down President Trump.
During Limbaugh's last radio broadcast of 2020, he thanked his listeners and expressed his gratitude, saying:
Rush Limbaugh is survived by his widow Kathryn, whom he married in 2010.
Yennefer's apprentice, Gilmore Girl; will Vulcan nerve pinch pretty much anyone if prompted with cheese...Yes, even Jamie Fraser.
Your Daily Blend of Entertainment News
Thank you for signing up to CinemaBlend. You will receive a verification email shortly.
There was a problem. Please refresh the page and try again.