Buffy The Vampire Slayer: 11 Actors You Forgot Were On The Series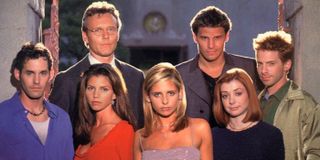 Buffy the Vampire Slayer launched the careers of several actors including Sarah Michelle Gellar and David Boreanaz, but did you know they've had their fair share of up-and-comer guest stars who have all blown up into huge stars? Wonder Woman 1984's Pedro Pascal and Amy Adams are superstars now, but let's look back at their humble beginnings along with some other familiar faces.
Pedro Pascal
Pedro Pascal had a one-episode appearance as Eddie in the Season 4 opener, "The Freshman". A fellow freshman at UC Sunnydale, he and Buffy bonded over looking for her dorm, and they promised to hang out and help each other out through the school year. Poor Eddie is immediately attacked by a vampire after Buffy leaves. He later pops back up as a vampire Buffy has to dust. Pascal first picked up some traction with Game of Thrones and Narcos, but has since gone supernova, playing the titular character in The Mandalorian and starring as the villainous Max Lord in Wonder Woman 1984. If that wasn't white hot enough for you, he'll next be seen playing Joel in the hotly anticipated adaptation of the video game, The Last Of Us for HBO.
Amy Adams
Amy Adams popped up in the Season 5 episode, "Family" as Tara's nasty cousin, Beth. Turns out Tara has demon heritage and all women in her family eventually turn evil. Her family shows up to take her home, except, surprise! This was actually bullshit and Tara is human and it was made up to keep the women in line. Beth wins extra terrible points for calling Tara a "selfish bitch." Amy Adams has since become one of Hollywood's A-list, including being nominated for six Oscars. Her big screen breakthrough was in the 2007 Disney hit, Enchanted. Since then she's been in tons of notable movies including American Hustle, playing Lois Lane in the Zack Snyder-verse and starring and producing the HBO miniseries Sharp Objects, based on the Gillian Flynn novel.
Wentworth Miller
Playing Gabe Petronzi in the Season 2 episode, "Go Fish", Miller played a Sunnydale High School swim team jock-turned Creature from the Black Lagoon. Turns out monsters have been killing swim team members and Buffy thinks he's next so she plays bodyguard. In reality, the swim team coach has been giving the members chemicals and they're not actually dying, they're turning into lizard/fish/monster-people, which Miller's Gabe ends up turning into as well. Wentworth Miller went on to star as the main character in Fox's Prison Break. More recently, he's portrayed fan-favorite villain Captain Cold on CW's The Flash and its spinoff, Legends of Tomorrow. He also came out in 2013, and in November 2020 he put the kibosh on a sixth season of Prison Break stating he doesn't want to play straight characters.
Kal Penn
There's not a lot to say about Kal Penn's Buffy the Vampire Slayer appearance, except that it was in a really, really bad episode. Penn played Hunt, a UC Sunnydale student in the universally panned Season 4 episode, "Beer Bad." Buffy picks up some drinking buddies to drown her sorrows over being jilted by Parker in the previous episode. But since this is Buffy, it turns out a frustrated bartender added a special potion to the beer that turns the students into cavemen. Bonus points because Kal Penn also showed up on Angel as a completely different character! Kal Penn's most famous role is as Kumar in the Harold and Kumar series. He also had a recurring role on House, but he had to leave it because he took up a job in the Obama administration in 2010 as Director of Public Engagement.
Clea Duvall
Clea Duvall popped up early in a Season 1 episode ("Out of Sight, Out of Mind") of Buffy, playing Marcie Ross. Marcie was so unpopular, even super-losers like Willow and Xander didn't notice her. Being that they live on a Hellmouth Marcie feeling invisible to everyone LITERALLY TURNED HER INVISIBLE. Cordelia and other popular girls start being victims of her stealthy attacks. After they stop Marcie, we get a weird, X-Files-esque ending in which some G-Men come and take her to a school that will help her. Except they take her to a secret assassination school for invisible kids, the end. Clea Duvall had a string of late '90s hits including The Faculty. She's also had a steady TV career, most recently as the girlfriend to the first daughter and secret service agent to Julia Louis-Dreyfus on Veep. Most recently, she wrote and directed the holiday rom-com Happiest Season on Hulu, starring Kristen Stewart.
Michael Cudlitz
"The Zeppo" is a great Season 3 episode where Xander feels undervalued and starts hanging out with some trouble-making teens. Turns out they're trying to raise Bob (Michael Cudlitz) -- a former meathead from Sunnydale -- from the dead and then intend to blow up the school. What's fun about this episode is Xander's goofy side plot with Bob is front and center while the dramatic world-ending plot takes a back seat. Michael Cudlitz has had a long Hollywood career in supporting roles including the John Wells TNT cop drama Southland. However, undoubtedly his biggest role was playing Abraham on the AMC zombie hit, The Walking Dead. Most recently he starred in the 2018 show The Kids Are Alright which was cancelled after one season.
Amber Tamblyn
The Joan of Arcadia star played Janice, Dawn's friend, in the Season 6 episode, "All The Way," when Dawn and her friends participate in Halloween hijinks. You see in Buffyverse Halloween is supposed to be the safest night of the year as demons take the night off. However, the boys Dawn and Janice are with didn't get the message and are actually vampires who are plotting to kill them. Known for daytime soap General Hospital before her breakout role in 2003's Joan of Arcadia, Amber Tamblyn is also known for her role in the ensemble coming-of-age drama The Sisterhood of The Traveling Pants. She can next be seen in the FX adaptation of Brian K. Vaughan's Y: The Last Man.
Rachel Bilson
Rachel Bilson, much like Kal Penn, had a very small part, playing Colleen, a potential Slayer in the final season of Buffy the Vampire Slayer. By this point in the season, the Scoobies are bursting at the seams with potential slayers, with everyone housing them in their various abodes. Xander has a dirty dream about two of the Slayers having a pillow fight. One is played by Rachel Bilson. That's it. That's her whole appearance. I guess it's reasonable to assume she's there off-camera helping out in the final battle at the Hellmouth? Don't shed too many tears, though, as she would breakout on the 2000's mega-hit The O.C. the very same year. Bilson filled her post-O.C. years with guest roles in television before landing her leading role on the popular CW show, Heart of Dixie. More recently, she starred in Take Two on ABC, which was cancelled after a season.
John Ritter
This is a bit of a cheat as this was more stunt casting than casting a future star. Buffy's mom starts dating Ted (John Ritter) in this Season 2 episode. He seems like a perfect boyfriend, but Buffy doesn't quite warm to him. Ted reads her diary and learns about her slaying, to which Buffy gets upset. He slaps her, and then she unleashes a can of slayer whoop-ass on him, accidentally killing him. Buffy feels bad about this the next day, but don't worry, he shows up alive in her bedroom the next night! Is he a demon? No, he's a robot. Look, early Buffy episodes had some weird plots. John Ritter passed away in 2003 from aortic disease. He'll best be known for the '70s sitcom Three's Company. He also had a string of movie hits in the '90s, including Problem Child. He fell ill while rehearsing for his ABC sitcom, 8 Simple Rules and after a brief attempt at heart surgery, he was pronounced dead at the hospital.
Conchata Ferrell
Conchata Ferrell played Ruthie the school nurse in the Season 2 episode, "Go Fish." She helped the swim coach use the abandoned Soviet Union drugs to help make the swimmers faster. When she tried to shut down the experimentation, the coach threw her into the pit of mutant high school athlete lizard dudes and they ate her. Ferrell passed away in 2020 from complications from a heart attack, but had a long career in Hollywood. A working actress, she's best remembered for playing Berta, the sharp and sassy housekeeper in over 200 episodes of the Chuck Lorre hit, Two and A Half Men.
Danny Strong
This one is also kind of a cheat, Jonathan is a fan favorite character who recurred in the early seasons of Buffy as a dorky, lovable high school classmate, and eventually made it to "big bad" status in Season 6 as part of "The Trio." Jonathan, Warren and Andrew teamed up to mostly annoy Buffy but thanks to Warren accidentally killing Tara with a stray bullet, eventually graduated to full-on supervillains. After a bit of redemption, things take a grim turn for Jonathan when a demon-influenced Andrew sacrifices him for his blood so they can open up the Hellmouth, RIP Jonathan.
The real reason to include Danny Strong on the list is he's had a pretty successful career as a writer and producer, post-Buffy. He won writing Emmys for both Recount and Game Change for HBO, he wrote the last two movies in the Hunger Games franchise and co-created and executive produced Fox's breakout hit, Empire. He's also kept busy on the acting front, most recently appearing as the Secretary of Treasury in the Showtime Wall Street drama, Billions.
Buffy the Vampire Slayer has been a veritable who's who for guest actors. These are only ten but there's also been Whedonverse alums like Nathan Fillion, currently seen protecting and serving on ABC's The Rookie, and Felicia Day, who's an all around geek queen, including a recurring role as a demon hunter on the recently wrapped up CW hit, Supernatural. Which actor were you more surprised to learn was in Buffy? Let us know below!
This poll is no longer available.
Never not rewatching Mad Men. Lover of comic books and all things related. I spend most of my free time giving medicine to my geriatric cat.
Your Daily Blend of Entertainment News
Thank you for signing up to CinemaBlend. You will receive a verification email shortly.
There was a problem. Please refresh the page and try again.