The Mandalorian's Pedro Pascal Responds To The Rumors He Demanded To Show His Face More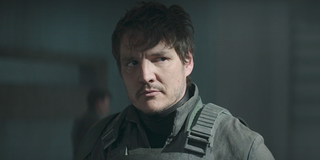 At this point, everyone and their mother either watches The Mandalorian, has heard of it, or is actively ignoring the existence of the new(ish) Star Wars spinoff. Not everyone, though, can place the leading man, Pedro Pascal, as his face has been covered for 99.9% of the first season and first half of the second season, combined. It is the way. Recently, though, Pascal has caught a bit of flack due to the rumors circulating which say he has demanded to be able to show his face on screen more. That is so not the way.
During a live UK television program, Pedro Pascal was put on the spot about these reports. A Twitter user grabbed the segment and posted it to their feed, also calling out the possible source of the rumor in the process. Here are Pascal's own words when asked about whether or not he hopes to take the helmet off even more on The Mandalorian:
When the final episodes of The Mandalorian hit Disney Plus this month, viewers did, in fact, see Mando take his helmet off not once, but twice. The first time was necessary for the rescue of Baby Yoda (or Grogu, if you MUST) and the second was for a completely heartwarming gesture of love for Baby Yoda before when they said their goodbyes.
While the helmet removals made complete sense for the series, as well as being satisfying for viewers to show the dedication Mando had to Baby Yoda, the timing of the rumors and Pedro Pascal's face getting screen time seem to line up perfectly. The coincidence may have given these reports a little more credence in the eyes of some fans, but now they can't help but notice the shock and confusion in which Pascal responded to the question and denied that he's been demanding to show his face.
The comments on the tweet are scattered with different opinions. Some fans are mortified that the rumors got back to the actor, rightly feeling that it is a huge insult to Pedro Pascal. Others aren't buying his answer, taking his confused body language and shocked response as a kind of guilt. So, as with any report like this, there are fans who either support or deny the claim that there are troubles on the set of The Mandalorian centered around Pascal.
Season 3 of The Mandalorian is set to take a little bit of a hiatus, with The Book of Boba Fett announced to be released first. Until then, Cinemablend will continue to keep you updated on all things in the Star Wars universe.