YouTube's James Charles Dealing With Crackdowns And Loss Of Revenue After Allegations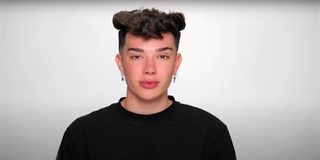 Beauty influencer and YouTube superstar James Charles is facing a YouTube advertising ban and loss of major revenue after recently being accused of exchanging multiple inappropriate messages with underage boys. More than a dozen allegations took place regarding Charles and his alleged actions with minors on social media, including claims that James Charles was "grooming" teenagers. James has since posted a 14-minute long apology video, but YouTube has already taken action and it's going to mean a major loss for the social media star.
In fact, the average James Charles video racks up millions of views, with his latest sitting pretty at over 8 million views. Even with the complaints about ad rates on YouTube, Forbes estimates Charles makes about $5 million a year on the platform. So, that's a lot of cash.
According to EW, the video streaming platform has temporarily demonetized James Charles's YouTube channel by removing him from the Youtube Partner Program. What does this mean? In layman's terms, it means that James can't (for now, at any rate) make any money through the advertisements on his channel. This could be quite the financial blow, considering that his profile has over 25 million followers.
In addition, popular beauty brand Morphe has dropped James Charles from their list of collaborators. The beauty guru has worked with the brand several times in the past. At the time of writing, the James Charles products (including an eyeshadow palette and makeup brush set) are still available on Morphe's website, but most likely not for long. Charles was estimated to make about $10 million a year before his recent brouhaha, and it's unclear how long the popular YouTuber's revenue stream will be down, but we are not talking about a small chunk of change.
Despite the changes for James Charles, there is still copious amounts of engaging YouTube content without any controversy. For the Cocomelon crowd, upcoming animated series Super Selma, which will follow a young superhero in a futuristic African city. Not your speed? Matthew McConaughey has launched a lifestyle channel, promising life updates and general charisma. Will Smith, Jack Black, and Tia Mowry are just a few of the celebrities who have also been uploading fun content. If it's a scripted series you seek, you're in luck: subscriptions to YouTube TV include dozens of stations to satisfy any TV junkie.
Charles isn't the only YouTube personality to face backlash after public outcries. In February of this year, user Pewdiepie released diss track "Coco" aimed at the channel Cocomelon. It was deemed by many to be an odd move, considering Cocomelon produces animated musical videos aimed at young children. The video was removed after YouTube decided that it violated several of their user policies, including the promotion of any violence involving children.
Pewdiepie later issued an apology video, but the video was not restored to his channel. As for what the future holds for James Charles, only time will tell.
Actor, singer, and occasional dancer. Likes: fashion, books, old buildings. Dislikes: cilantro, the NJ Turnpike, sneaker wedges.
Your Daily Blend of Entertainment News
Thank you for signing up to CinemaBlend. You will receive a verification email shortly.
There was a problem. Please refresh the page and try again.