Superman And Lois Topped Game Of Thrones' Coffee Cup Snafu With Latest Episode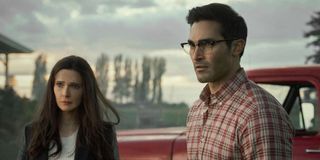 Spoilers ahead for Superman & Lois, "A Brief Reminiscence In-Between Cataclysmic Events."
In 2019, fans came together to watch the final season of Game of Thrones. While some say that the majority of it wasn't that good, something great did come out of it and that is the coffee cup. Although it looked like nothing would top it, the latest episode of The CW's Superman & Lois may have finally done so.
In this week's episode of Superman & Lois, fans were taken back in time as Clark Kent (Tyler Hoechlin) was reliving his memories in Smallville and soon Metropolis with Lois, thanks to long-lost brother and enemy Morgan Edge. Wanting to keep his family safe, Clark decided to side with Edge and basically be his puppet. When Edge brought Clark to his home, he was introduced to his son. However, during the climactic moment that aired on The CW, it appears that not all the renderings from the VFX department were finalized, as one fan had pointed out on Twitter.
In the clip that aired during the episode's final moments, "Temp VFX" can be seen at the bottom of the screen, along with timestamps and other wordings. While it's not the first show to have a mistake like that (and it has since been fixed since going to The CW app), fans may be reminded once again of the coffee debacle on Game of Thrones. Considering how small the coffee cup was and that it easily could have been missed, something as big as a VFX rendering that would have gone through to final editors before the airing shouldn't be missed. The mistake can also be compared to The Mandalorian's hilarious boom mic mistake, which also happened in 2019.
Superman & Lois is by far not the only project to make a VFX mistake. Last year, the Avengers: Endgame VFX artists revealed a clipping mistake they had made with Thanos, wishing they had caught it in time. While some would say that, being on a project as big as Avengers or Superman & Lois, they shouldn't be making those mistakes, it just proves that it happens to everyone.
Although the Superman & Lois VFX mistake was fixed by the time the episode headed to the CW app, it will live on forever as ranking on a similar level as Game of Thrones' coffee cup incident. It does raise the question on whether or not something else will happen on another show in two years' time that will eventually top the VFX and coffee cup incidents. But only time will tell. In the meantime, Superman & Lois returns to The CW, hopefully with its final renderings, on Tuesday, July 13 at 9 p.m. EST on The CW.
Your Daily Blend of Entertainment News
Passionate writer. Obsessed with anything and everything entertainment, specifically movies and television. Can get easily attached to fictional characters.