Jeopardy Has A Response For Fans Calling Out Champ Matt Amodio's Answer Format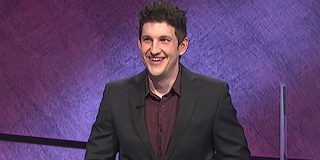 Jeopardy! is a fast-paced trivia game for the smartest of the smart that's been around since 1964. Since the answer-and-question game show is so well-established, its viewers are keen to its structure and rules — both written and unwritten — to the point where any slight change brought about by a contestant sends loyal Jeopardy! fans into a tizzy. Current champion Matt Amodio has found himself the target of the latest backlash, with fans taking issue with the way he forms his response, and Jeopardy! has responded.
The issue fans have with Matt Amodio centers around the way he phrases his responses. Amodio uses, "What is …" to begin each answer, regardless of if the answer should require another question word like, "Who is …" or "Where is …" He also uses the contraction "What's …" instead of the traditional "What is …" or "What are ... ." Jeopardy! took to its website to address fans' concerns:
So there you have it. Stand down, grammar police. Matt Amodio is well within his rights to answer with whatever question word he wishes, or to use a contraction, just as long as his response is in the form of a question (although I personally wouldn't accept "The Who?" as a correct question/answer, but nobody asked me).
Matt Amodio is already making a name for himself in the Jeopardy! history books, and it's got nothing to do with fan feedback. Amodio collected $310,400 in just nine days. History has shown that sometimes the players who mix it up a little have the most success. Past champion James Holzhauer caused a stir with his unique playing style of placing huge bets and jumping around the board. And the master himself, Ken Jennings, caused a rule change after his sophomoric Final Jeopardy! bidding. Holzhauer and Jennings earned two of the highest all-time winnings in Jeopardy! history!
It looks like Matt Amodio is in good company as he continues his trek under the leadership of CNBC host David Faber, who will be the guest host from August 2-6, followed by Fox sportscaster Joe Buck hosting from August 9-13. But while Amodio's responses are legal, Jeopardy! does have a warning against contestants trying to get too cute in how they phrase their questions:
I'd hate to see how the Jeopardy! loyal would react to a contestant starting their question with one of those wordy phrases! See guys, it could be worse. Give Matt Amodio a break. And if you're looking for something else to watch, check out our 2021 Summer TV schedule.
Mom of two and hard-core '90s kid. Unprovoked, will quote Friends in any situation. Can usually be found rewatching The West Wing instead of doing anything productive.
Your Daily Blend of Entertainment News
Thank you for signing up to CinemaBlend. You will receive a verification email shortly.
There was a problem. Please refresh the page and try again.