30 Rock's Best Episode: Tracy Does Conan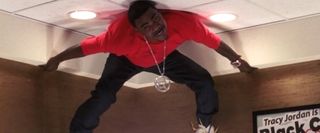 Once again, we're tackling another show in TV Blend's weekly series "___'s Best Episode." Each week a different writer will pick out a different episode of a TV show and argue why it is definitively, absolutely the best thing the show ever did. Arguments will be started, tears may be shed, but we're here to start some conversations and make some arguments for really, really good TV. Eric took on The SImpsons's best episode last week and this week Katey continues things by looking back to the first season of 30 Rock. Read below, argue with us in the comments, and enjoy the new series!
The first season of 30 Rock often gets picked on for its growing pains. The show was so low-rated it risked cancellation, and debuting against Aaron Sorkin's splashier, more expensive Studio 60 on the Sunset Strip, it took a while for 30 Rock to prove it had actual staying power. And yes, there are plenty of elements from season 1 that we're lucky to be rid of-- Liz Lemon's sad-single-lady habits were even worse then, her relationship with Jack actively hostile instead of begrudging but loving, and the brief glimpses of the TGS sketches only made the people who worked so hard on the show look stupid. But the seventh episode of the first season, "Tracy Does Conan," was the first that really showed how well 30 Rock could combine off lickety-split, screwball comedy pacing with slightly insidery humor, introducing us to a number of recurring supporting gags and one of the best Tracy Morgan performances to go bananas without crossing over into irritating. It also has the best Jack Donaghy line of all time. What more could you want from a single 30 Rock episode?
It's hard to believe the always welcome Dennis Duffy was worked into the show this early, but the episode kicks off with Tina Fey and Dean Winters in Liz's dumpy kitchen, as Liz finally realizes it's time to dump Dennis for good when he claims they'll name their future kids "awesome names, like Shannon or Rick." She makes sure he'll be home at the end of the day for a breakup conversation before heading off to the 30 Rock blood drive, where she takes a cookie from the nurse who warns her that being 35 and single and with 3 sexual partners in the last 10 years, she might not want to break up with a boyfriend after all. One snarky comment from Jack about the cookie-- "Does giving blood burn calories?"-- gets her to ditch the cookie, and we're set up for a Liz Lemon whose blood sugar is crashing and can't be counted on to properly handle anything that happens next.
Jenna had been scheduled to go on Late Night With Conan O'Brien that night--remember the good old days when Conan was in New York and all was right in the world?-- but Jack has bumped her in favor of Tracy, who's actually famous. Jenna proceeds to have a crisis that can only be solved by LIz's half-hearted encouragement, but the bigger problem is Tracy, who is off his meds and doing all kinds of crazy shit, from making Chewbacca noises in the mirror to claiming there's a blue dude following him around (played by Rachel Dratch, her bug eyes doing all the work). Liz runs interference with Conan, who it turns out is her ex-boyfriend, and also has to call in Tracy's doctor Dr. Spaceman ("He's an excellent physician-- and a pretty good dentist") and constantly respond to calls from Jack, who is getting ready for a dinner honoring Jack Welch and needs a good zinger.
Liz is the most frazzled of the group, but Pete's also dealing with the Stone Phillips wig Jack is forcing him to wear, Kenneth is navigating the Rite Drug on every single corner of 46th and 8th, and even Conan is worried about the return of the guest who tried to stab him last time Tracy went on the show. The plotlines all converge when Tracy finally arrives on the show and miraculously pulls it off, but you can't blame Liz when she gets home, finds out Dennis bought her a cheeseburger, and falls asleep watching him play Halo without the energy to break up with him.
The structure of "Tracy Does Conan" is what keeps the episode moving faster than just about any sitcom episode that's ever aired, but it's tiny little jokes throughout it that make the whole thing shine-- the way Kenneth keeps trying to hold Pete's hand while they run down the hallway, Dennis solving the maze on the back of the cereal box, the introduction of Jenna's movie The Rural Juror, and of course Kenneth's clogging routine that ends the episode. Oh, and if you look really closely, there's a tour group going into the Conan show that's led by none other than Parks & Recreation's Aubrey Plaza. Every 30 Rock episode has at least a few good jokes, but this might be the most crammed within a single episode, all of them heightened by the plot's incredibly quick pace. It's hard not to watch other 30 Rock episodes and not wish for the same zany energy every time.
30 Rock grew a lot as the seasons went on, and the relationship between Jack and Liz especially got more fun once they started relying on each other. But it's hard to beat the overall wit and frenzy of "Tracy Does Conan," which honed in on the things the show was doing best in its first season and knocked every single element out of the park. It's the best episode 30 Rock ever made.
Staff Writer at CinemaBlend
Your Daily Blend of Entertainment News
Thank you for signing up to CinemaBlend. You will receive a verification email shortly.
There was a problem. Please refresh the page and try again.