78violet's Michalka Sisters Could Be Headed For A Fox Comedy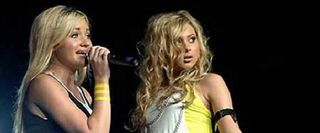 Fox has picked up another female-led comedy project, this time a potential starring vehicle for pop singer sisters Aly and AJ Michalka. The two blondes would play characters very much like their real selves in the as-yet untitled single-camera comedy.
The project has a script commitment according to Deadline, and comes from Happy Madison with writers Adam Goldberg and Matt Dearborn ready to pen the script. The sisters, who have had something of a pop music career first under the name Aly & AJ and now 78violet, started out acting in a Disney Channel original movie called Cow Belles and then did MTV's Super Sweet 16: The Movie. They've since branched out to do some projects independently, but it looks like they want to stick together for the future with this new project, which seems to be something of a move into more grown-up roles.
The plot line for the comedy follows two sisters who move out and into their first apartment together, only to have their mother suddenly decide to move in with them. So really, it's just barely more grown-up than some of their previous work. There's not much more in the way of description for the project, so it's hard to judge it just yet. I do think it's safe to say that it will take more than a couple of mildly talented pretty blondes to make a success out of what doesn't really sound like something particularly original. Of course, I have been surprised by Disney Channel graduates in the past. Rarely, but it does happen, so I'll give these two the benefit of the doubt for now.
Your Daily Blend of Entertainment News