ABC 2013-2014 Schedule Puts S.H.I.E.L.D. On Tuesdays, Once Upon A Time Spinoff On Thursdays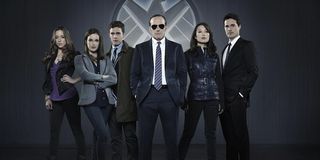 ABC has posted their 2013-2014 line-up of new and returning series, which gives us a look at the plan for the network's schedule for the fall. The network has moved The Neighbors over to Friday nights, to join Last Man Standing, and fill the gap left by Malibu Country. Meanwhile, Marvel's Agents of S.H.I.E.L.D. will air on Tuesday nights, ahead of new comedies The Goldbergs and Trophy Wife, which are sandwiched between another new drama, Lucky 7.
While Tuesday night is packed with new shows, Wednesday is more of a mixed bag, with returners The Middle, Modern Family and Nashville joined by Back in the Game and Rebel Wilson's Super Fun Night.
ABC put the Once Upon a Time Wonderland spinoff on Thursday night, ahead of Grey's Anatomy and Scandal. As for the soapy new drama Betrayal, that one's joining Revenge and Once Upon a Time on Sunday nights. And you may note Suburgatory isn't on the list. ABC is bringing it back, though it doesn't look like they've found a place for it just yet - or they're holding onto that one for midseason.
Mind Games, Killer Women, Resurrection and Mixology are all set for Midseason 2014. Watch the trailers for those here.
ABC also announced that they're going to air a TV special Toy Story of Terror from Pixar, which will include the original cast of the beloved Toy Story films, including Tom Hanks, Tim Allen, Joan Cusack and Wallace Shawn.
We'll be sharing more details and hopefully some video for all of the new series soon enough, so be sure to check back in for that. In the meantime, check out our coverage of NBC and Fox's new series here.
Photo Credit: ©ABC