ABC Buys Action Adventure Based On Matthew Reilly Treasure Hunt Novels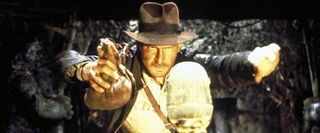 Westerns and fairytale retellings may dominate the market this season, but ABC has its sights on a globetrotting action adventure series. ABC has bought a project from writer Michael Seitzman (North Country) and producer Mark Gordon (Saving Private Ryan, Criminal Minds), that seems like the same kind of deal as National Treasure or Lara Croft: Tomb Raider. If it goes to pilot, the closest thing to the adventure show on TV would probably be The Amazing Race, only this series would be scripted.
Currently being written under the title The Seven Wonders, Gordon and Seitzman's pilot will be a reworked version of the first two books in Matthew Reilly's Jack West Jr. books. According to Deadline, the pilot will follow a team of five led by – you guessed it – Jack West Jr., as they roam the world looking for seven pieces of some relic. Likely the relic is powerful and likely the group will get up to some dangerous and fun-loving adventures along the way.
Seitzman is definitely on board with the idea for the project, having said:
The project is only in the early stages of development, so we'll see if the pilot gets a series order. However, it's totally different than anything the market has to offer, and having Mark Gordon on board to produce totally earns The Seven Wonders brownie points. I wouldn't be shocked if we started hearing more news, soon.
Your Daily Blend of Entertainment News
Thank you for signing up to CinemaBlend. You will receive a verification email shortly.
There was a problem. Please refresh the page and try again.