ABC Exec Defends Grey's Anatomy Ghost Humping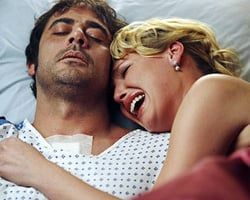 The only drawback to my wonderful marriage is that I sometimes have to watch shows I do not like. Two examples of these shows are Ghost Whisperer and Grey's Anatomy. Besides staring at Jennifer Love Hewitt's breasts and listening to the Chief's rantings, I get no satisfaction from these shows. At their worst though, they were just harmless. Until this season. Grey's has went bat shit loony this year with the absurd Denny-Izzie plot. I haven't really commented about my hatred of this storyline publicly but after ABC Entertainment President Stephen McPherson defended the "ghostmance" storyline yesterday, allow me to retort.
Mr. Stephenson, I do not care how this storyline turns out, this was a pathetic grab at the "Awwww! They're in love" bullshit from two seasons ago when Denny was actually alive. The show has been sucking at Heroes levels ever since. Even staunch fans of the show are tired of this crap. Mr. Stephenson insists Denny is not a ghost and that we will be "surprised at how insightful and smart the story line" is. Um, no I will not . The storyline is poorly written, shoddily inspired, and developing woefully slow. Regardless of whether or not Denny is a ghost, Izzie has been humping a non-existent man for months now. Self love is fine but proclamations of "best sex ever" when nobody is around is a comment that I would expect from fans of uh.. well…Heroes.
So how will this turn out? Is Izzie sick? Is Denny really communicating from the dead? Is she dying? Does it really matter? Unless she dies from whatever is causing her physical encounters with the dead man, I think the show loses viewers. Check that. I'm sure it will lose them regardless. Some shows jump the shark. Grey's Anatomy has jumped the shark, turned around, humped the shark, and jumped it again. So excuse me Mr. Stephenson that I'm not convinced by your defense of ghost humping. Your once great show has followed the path of another former hit, Desperate Housewives and went into the creative toilet. If this storyline doesn't convince you that Shonda Rhimes was a one hit wonder, might I suggest you watch Private Practice just once.
Your Daily Blend of Entertainment News
Thank you for signing up to CinemaBlend. You will receive a verification email shortly.
There was a problem. Please refresh the page and try again.