ABC Renews Scandal, Cancels GCB, And Greenlights Three Pilots To Series Including White Van Man Remake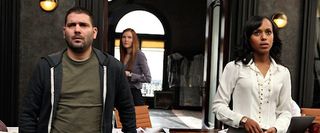 There's good news, bad news and new-news for ABC's primetime line-up this evening. Word is in on the fates of Sunday-night drama GCB and Shonda Rhimes Washington DC-set drama Scandal, and ABC has decided to move forward on a few projects, giving two drama pilots and one comedy series orders.
According to Deadline, ABC has decided to give Scandal a second season. The Shonda Rhimes created political drama stars Kerry Washington and premiered last month, airing on Thursday nights to decent ratings. Despite its Sunday night time-slot, GCB didn't do so well in the ratings, so it's not entirely surprising to hear word that ABC has decided not to renew it for a second season.
As for what's ahead for the network, I was really hoping we'd hear some good news for Shawn Ryan's pilot Last Resort. There's no word on that one yet, but ABC has opted to pick up three new shows. According to the Hollywood Reporter, the network has decided to move forward with Nashville, Red Widow and Red Van Man.
Nashville - Executive produced by Callie Khouri, RJ Cutler and Steve Buchanan, Nashville stars Connie Britton and Hayden Panettiere and is described as a family soap set in the Nashville music scene. The focus of the story will be on Britton's character, a singer at the peak of her career, and Panettiere's character, a young star on the rise. Given the steady popularity of music-focused dramas on television, I'd say Nashville has a fighting chance of attracting an audience, which will likely consist of country music fans (and those of us who've missed seeing Britton and Panettiere on TV since Friday Night Lights and Heroes ended.)
Red Widow - formerly titled Penoza, Red Widow comes from melissa Rosenberg and stars Radha Mitchell, Lee Tergesen and Luke Goss. The series is based on a Dutch drama and follows the widow of an assassinated criminal who apparently takes over her husband's old job in a crime syndicate in an effort to protect her family. I don't love the new title, but it sounds like it could be an interesting drama.
Red Van Man - (This may actually be titled Family Tools - I'm seeing both referenced.) Based on the British series White Van Man, this single-camera comedy stars Kyle Bornheimer, J.K. Simmons and Leah Remini, and centers on a man who puts his own dreams aside to take over his father's handyman business. Kyle Bornheimer doesn't exactly have the best track-record for TV comedies (RIP Worst Week, Romantically Challenged, and Perfect Couples), but I'll watch anything with J.K. Simmons in it, so we'll see how this one goes.
Update: More ABC series pickups (including Last Resort!) here.
Another Update: Three more cancellations and three more renewals for ABC here.
Your Daily Blend of Entertainment News
Thank you for signing up to CinemaBlend. You will receive a verification email shortly.
There was a problem. Please refresh the page and try again.