Abdul Gets Green Light To Go Nuts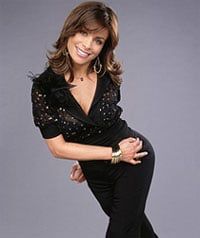 Paul Abdul, our Patron Saint of Lunacy, is getting her own series. 'Hey Paula' has been given the green light by Bravo as the network continues its shame spiral into intellectual oblivion. Does anyone remember when they were a paragon of virtue for the standard cable landscape as the home of ballet, opera and classical music concerts?
'Hey Paula' is expected to take us into the daily comings, goings and epileptic fits of the 'American Idol' judge. Done as a quasi-"fly-on-the-wall" docu-series, viewers will get to see how she prepares for the mind numbing task (ours, not hers) of syrup-praising future mediocrities, working on her clothing and jewelry lines and life at home. One could imagine it as 'The Real World' with Paula playing all the parts.
If you have been watching the promos as 'Idol' prepares to kick off its fifth season, Abdul been giving us more split personality than Sybil. One recent television interview showed Abdul taking a cue from the Courtney Love playbook, drunk talking and hyper-excitability hampered by stunted motor skills. Claiming never to drink, the Idol-maker must be suffering dearly from L-dopa withdrawal as evidence of all the bobbing and weaving we have seen. Quick! What was that sound? It must be the perilous freefall of someone getting close to the end of her rope.
Your Daily Blend of Entertainment News
Thank you for signing up to CinemaBlend. You will receive a verification email shortly.
There was a problem. Please refresh the page and try again.