Adam Sandler Probably Won't Be Hosting Saturday Night Live Any Time Soon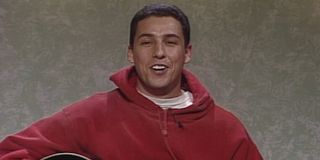 Really, why hasn't Adam Sandler ever hosted Saturday Night Live? Oftentimes, when a cast member leaves and goes on to get even more famous than the long-running sketch comedy series has already made them, they come back to host an episode. Adam Sandler never has. So why not? "Why should I?" is Sandler's recent response to that question. From his comments to Norm Macdonald, it doesn't sound like Sandler has any interest in hosting SNL any time soon.
(Via EW), Adam Sandler sat with Norm Macdonald for an episode of his podcast Norm MacDonald Live and among the topics of discussion was why Sandler hasn't returned to SNL to host an episode. You can watch this portion of the discussion about about the 17-minute mark:
Let's just look at the thread of topics here because the conversation plays out a lot less like an interview than it does two friends just chatting about work and the business and all that. The conversation inches closer to the topic of SNL bit by bit. First, they're talking about Marv Albert, which segues into Norm Macdonald revealing that Adam Sandler once advised him not to hurt people's feelings when he did the news -- presumably Weekend Update -- and Adam Sandler jumps in from there to note that David Spade and Robert Smigel "don't realize they're hurting people's feelings." Wait, seriously? (opens in new tab).
And that brings Macdonald to saying that it's a famous story (opens in new tab) that "Eddie won't do the show because of Spade." Sandler seems to think Eddie Murphy has let that grudge go by now. And that's where the conversation leads to Macdonald asking Sandler why he won't host the show.
"Why should I?" Sandler responds. "How good would it would be? I'm slow now." He goes on to say that "There are guys who love doing it, who are great at doing it. I just don't know how good I'd be doing it. I did what I could do on that show."
It's hard to know how to take Sandler's comments. At face value, it seems he just doesn't think he has anything left to offer the sketch comedy series. But maybe there's more to the situation than that? As Macdonald brings up, there were reports that Sandler was actually fired from Saturday Night Live, along with Chris Farley. It's hard to understand how that could even happen, considering how increasingly popular they were in 1995, the final year of their SNL run. 1995 was also the last year for Mike Myers and Kevin Nealon. Some would probably still argue that the show hasn't ever been as good since. Personally, I wouldn't go that far, especially when we consider that 1995 was the first year for Will Ferrell, Darrell Hammond, Colin Quinn, Cheri Oteri and Molly Shannon. SNL will always have its ups and downs as it relates to both its writing and its cast, but the Sandler/Farley years were among the series' ultimate high-points.
Chris Farley and Mike Myers both returned to host in 1997. David Spade hosted in 1998. Norm Macdonald hosted in 1999. So where's Adam Sandler? When Sandler first said "Why should I?" in response to Macdonald's question, I honestly thought he was about to reveal a grudge he has against the series. Then he goes on to talk about himself, so maybe not, but that doesn't entirely explain why he's never hosted SNL. Not just now or recently, but anytime in the last 19 years? He's done so many movies and he definitely didn't peak with Saturday Night Live, so it's a little odd that he never made his way back onto the show. But if it's simply a matter of him not being up for it then it's just as well. Hosting a live comedy show is probably a major challenge, and not something that can be done well if it's done halfway. Still, it's hard not to wonder what an Adam Sandler episode of Saturday Night Live would be like today.
Your Daily Blend of Entertainment News
Assistant Managing Editor
Kelly joined CinemaBlend as a freelance TV news writer in 2006 and went on to serve as the site's TV Editor before moving over to other roles on the site. At present, she's an Assistant Managing Editor who spends much of her time brainstorming and editing feature content on the site.