Amanda Peet Will Recur On CBS' The Good Wife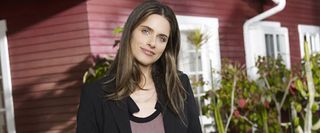 Since my youth, anytime I have played any sort of "what role is ____ in?" game, I have mixed up Parker Posey and Amanda Peet. They don't have that similar of a look--and Posey certainly has the sharper mouth—but I can't ever remember who is in what role. Luckily, I will be able to remedy the situation very soon, thanks to CBS featuring both on the same drama.
Posey first appeared on CBS' The Good Wife this past spring, portraying the former wife of Eli Gold. While Posey's storyline with her husband ended badly, I get the inkling we may see more of her in next season's election process. If this happens, it might be a little confusing for me, since The Good Wife has also picked up Peet for a recurring role. Peet most recently had procured a role on the NBC comedy Bent, but despite its charm, the show was quietly cancelled, leaving Peet's schedule wide open for the upcoming TV season.
Luckily, Peet's role will be dissimilar to Posey's on the lawyer-oriented drama. The 40-year-old actress is set to play a military lawyer who sues for sexual assault through Lockhart/Gardner. According to TV Line, Alicia will be her lawyer and through the case they build a friendship that will last into multiple episodes. With an election coming up, some batshit crazy exes to deal with, and Peet's presence, Season 4 is shaping up to be filled with more must-see drama than the last. I can't wait.
Your Daily Blend of Entertainment News
Thank you for signing up to CinemaBlend. You will receive a verification email shortly.
There was a problem. Please refresh the page and try again.