The Amazing Race Watch: You Don't Get Paid Unless You Win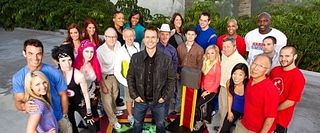 Two weeks ago, eight teams left the crowded streets of China for the crowded-er streets of India. Gary/Mallory and Jet/Cord continued their domination, and comprised the Top Two for the second straight leg. However, a particularly brutal tea-tasting Roadblock proved to be especially hard on Luke, who was reduced to bitter tears several times before finishing. Though they weren't that far behind the Globetrotters, they were unable to make up the ground before they hit the mat in last place, and were Phil-iminated. Seven teams remain.
Gary and Mallory, who came in first place in the last leg, won a high-end dinner of Indian cuisine (not like that stuff they sell in the cafeteria on Outsourced) and some Bollywood-inspired dancing for entertainment, sponsored by Snapple. We are shown only a few seconds of their evening, complete with gratuitous product placement, and then it's a quick segue back to the mat to begin the seventh leg of the Race. They rip open their clue and are told that they need to fly from Kolkata to Varanasi, which is also in India. Once there, they must search for a pre-designated tonga stand (a tonga is a light horse-drawn carriage) and search for their next clue.
One by one, the teams leave the mat and purchase their tickets at either the airport or a convenient travel agency. Not much to report about the actual purchasing of the tickets or the ensuing waiting for their flights, except for a couple of things: Ron decided to take Christina out to a nice Indian restaurant and treat her to dinner, which was a nice gesture. He states that since she is getting married next year (to Season 12 fellow racer Azaria), their one-on-one time is dwindling down, so he's relishing every moment of the race.
The other development, one that actually impacts the race, is that while six of the teams do enough research to discover that the best flight to Varanasi is on Kingfisher Airlines that lands at 10:45 am, Jet/Cord instead go to Jet Airways and book a flight that lands exactly an hour later, and leave it at that. Uh-oh. When the cowboys board their flight and see exactly zero of their competitors, it begins to dawn on them that they may have made a boo-boo. One look at the departure screen confirms this.
The six lead times land in Varanasi and get in cabs driven by cabbies of various age and degrees of speed-to-comfortableness ratio. Flight Time/Big Easy apparently get the most manic driver of the bunch, and Flight Time makes an awesome comment that a cars being driven that fast "usually has a helicopter over them and about three or four police cars behind them." Hee. I really like Flight Time, considerably more than Big Easy, who quite resembles Charles Barkley, both in resemblance and in demeanor.
Zev/Justin, meanwhile, get the cabbie that has to stop for gas halfway to their destination. Luck of the draw, guys. Kent/Vixsyn notice that the streets of Varanasi are very wild, and they are indeed: in addition to cars, bikes and carriages, you can also expect to see cows, oxen, monkeys and even elephants. And yes, I know these animals are sacred in India, but I'm really glad that I don't seen them driving down the streets of Phoenix, because then I'd have to have my windows rolled up the whole time.
Roadblock. Despite the 'Trotters lead-footed cabbie, it's actually Kent/Vixsyn who get to the tonga stand first, and are presented with this leg's Roadblock. According to the directions, one team member has to search the streets near the tonga stand for six different colorfully-dressed holy men (known as "sadhus") and match them from photographs that they are given. Each sadhu will given them one part of a phrase (which ends up being "once you're over the hill you pick up speed") that the team member had to correctly assemble and present to a seventh sadhu, who would give them their next clue. Kent agrees to do the task for his team, as do Big Easy, Jen, Gary, Ron and Justin. Meanwhile, it is at this time that Jet/Cord's plane arrives.
These "needle in a haystack" tasks usually find one or two teams falling way behind and getting frustrated, and if I had to pick the two people doing this task that are the most easily frustratable (is that a word?), it would be Kent and Ron. Justin impresses me with his ability to keep a cool head, something Zev is not too good at, especially given Zev's dislike of noisy, crowded places. I know he has Asperger's, and I don't know if a symptom that is a sensitivity to sound, but whatever the case, the image of Zev clamping his hands over his ears is a pitiable image. Fortunately, Mallory gives Zev the gift of some earplugs, and he's all smiles again. She is SOOOO awesome!!!
Jen is actually the first one to collect and assemble the entire message, and she and Kisha are given their next destination: a wrestling/strength-conditioning club called the Swaminath Akhara at a place called Tulsi Ghat. (Note: a "ghat" is a series of steps leading down to a holy river, in this case the Ganges, and Varanasi has nearly 100 of them.) They leave, and Justin and Big Easy are only minutes behind after some mutual cooperation. It is just then that Christina, Mallory and Vixsyn notice a pair of telltale cowboys hats nearing the tonga stand, and they gulp.
Vixsyn comments in interview how intimidating Jet/Cord are – not because they are not nice guys, but because they are very good at racing – and we get some footage from Season 16 where the cowboys became the first-ever team to finish a non-elimination leg in last place, do a Speed Bump, and still come in first place in the next leg. Damn, I'd forgotten all about that. Cord takes the photos and diligently begins his search. Ron, meanwhile, looks like he's outside the sadhu zone completely, and he's not known for his speed. Kent and Gary, also working together, also finish their phrase and head for Tulsi Ghat.
Detour. It is Zev/Justin and the Globetrotters who find Swaminath Akhara first, and their next clue is this leg's Detour. Their choices: Feed the Fire and Feed the Buffalo. In the former, teams travel to Sakha Ghat and find a work area, where they must make fifty "fuel patties" from the manure of the water buffalo, the quality of which would be confirmed by their ability to stick to a wall to dry. After drying, the patties would be used to start a fire to boil milk for some local children, and then they would receive their next clue. In the latter, teams had to take a water taxi to an island in the Ganges River, pick up two bales of hay, and deliver them to a specific address in Varanasi to get their next clue. Hmm… carrying hay or touching actual buffalo shit with your hands… what a tough choice… Not surprisingly, both teams opt for the hay.
Back at the Detour, Cord is able to locate the six sadhus before Ron does, and they have now officially caught all the way back up. Good for them. They leave, while Christina wonders what the hell has become of her dad. And she's right to worry, as it looks like he's about three zip codes over from where he started. Oops. Finally, he retraces his steps and begins collecting phrase words. Meanwhile, the Globetrotters and Zev/Justin collect their hay, while Kisha/Jen decide to do Feed the Fire. Hope there's a wash-up sink nearby. Jeez, the people who work there don't even use gloves! Everybody: "Ewwwww…." (Fortunately, gloves are provided for the ladies, which is a relief.) After starting, Kisha starts to gag, which sends a gaggle of nearby kids into a fit of giggles.
The Goths and Gary/Mallory also choose Fire, and Mallory has an epiphany while on the boat-ride to Sakha Ghat; she and her dad witness a funeral ceremony, in which a corpse wrapped in a brightly-colored shroud is put onto a boat loaded with kindling and set alight. Which, to Western eyes, would probably indeed be awe-inspiring. Mallory comments on just how amazingly different the culture is from her own, and how glad she is to have been able to witness it. Across town, Ron finally gets his clue from the seventh sadhu, but he and Christina are way behind now. Kisha/Jen, meanwhile, have not mastered the art of making dung-patties, and it starts to frustrate them.
Negotiating their way through a herd of dour-looking cows that try to eat their hay, Flight Time/Big Easy and Zev/Justin make their deliveries and are given the location to Leg Seven's Pit Stop: after crossing the Ganges, they must make their way to the city of Ramnagar and find Ramnagar Fort, an 18th-century fort in the Uttar Prasdesh province. Both teams hail pedicabs and set off.
Right about this time, Jet/Cord get to the Swaminath Akhara and opt for Feed the Buffalo, noting how ironic it is that they had to come halfway around the world to haul hay, something they do on a daily basis at home. Mallory, meanwhile, hysterically notes that the blouse she's wearing is the same one she wore in Russia in Season 17, when she also had to stand in a pile of manure, so the vows to never wear the blouse again, lest the gods of manure curse her further. Can I marry her? Seriously, nobody could be this awesome in real life!
Front-Runners. Flight Time/Big Easy complete an amazing comeback by hitting the mat first, a far cry from the last place they found themselves in at the start of the race. As a reward, they each win a trip for two to Hawaii, and I'm happy for them, because they finally are doing as well as they said they would at the beginning. Zev/Justin are right behind in second place, and I hope for Zev's sake the next country they visit is a quieter one.
Still in the Middle. Despite their Detour troubles, Kisha/Jen are able to finish the dung-patties first, and finish the leg in third, and I still don't find them too objectionable. Gary/Mallory take fourth place, and if you haven't guessed, I am rooting for them to win. Jet/Cord make orange juice out of lemons again, coming from an hour behind and taking fifth, and I'm glad for that as well.
Back of the Pack. Kent/Vixsyn actually left the Detour before Gary/Mallory and the cowboys, but an ill-advised attempt to take a boat across the Ganges costs them time, and they have to settle for a sixth-place finish. Seven legs in, and they STILL have not finished higher than fifth. They are a team of followers and seem to have much less savvy and initiative than any of the teams ahead of them, they can be very pushy and "ugly American" at times (which I hate), and I would bet actual money that they will be the next team eliminated.
Meanwhile, the end has come for Ron/Christina, who picked the wrong time to search for a needle in entirely the wrong hayfield. Though I am happy Ron was able to keep his composure for the last two legs, I am not exactly sorry to see him go, though I will miss Christine, who has the patience of a saint. Ron is all smiles, saying that he and Christina built a lot of "grand new memories" together, and he wishes her nothing but happiness with her hubby-to-be. Can't argue with that.
Next week: the remaining teams leave Asia to begin the European segment of the race, with their first stop being Vienna, Austria.
Your Daily Blend of Entertainment News
Thank you for signing up to CinemaBlend. You will receive a verification email shortly.
There was a problem. Please refresh the page and try again.