America's Best Dance Crew Season 3 Finale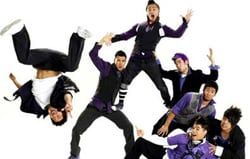 The finale of America's Best Dance Crew was a bit like a microcosm of the entire third season. The three performances – 3 crews each chosen by the judges – showcased the talents of the crews, as well as how the season went down. I mean, come the hell on. That opening number with Quest, Strikers All Stars, and Dynamic Edition was disgusting. It rivaled Quest's orchestra performance from last week.
That was followed by the other finalists, Beat Freaks, joining Team Millenia and Boxcuttuhz for a performance that was nearly as good as the first, but not quite. And that's how the show went. Quest brought such a high level of performance and precision to the end of their run on ABDC that Beat Freaks had to just keep up. Which was weird, because if you look at the entire season both Quest and Beat Freaks are about even.
But it's what you did last that counts most. And in that Quest dominated, taking home the title for season 3. Usually in a competition show I have a clear favorite in my head, but this is twice within a year that I've been split down the middle on who should win. The last time it was the finale of So You Think You Can Dance.
Quest Crew's win was not surprising for a number of reasons. I still feel the Dominic and Hok factor played a favorable part in their popularity. But more than that was that performance last week. That was the show each crew had to get our votes, and Quest simply did a better job.
Your Daily Blend of Entertainment News
Staff Writer at CinemaBlend.