American Dad Guest Stars Announced At Comic-Con Includes Nathan Fillion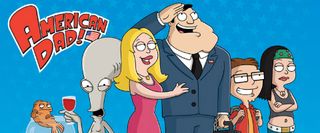 The American Dad panel at SDCC wrapped up not too long ago and to accompany the many, many inappropriate jokes as well as jabs at the fans asking questions (and each other, to be fair), the executive producers also announced a whole slew of guest stars that will be providing their voices for the upcoming season. The Fox animated series couldn't have found a better group of actors to litter throughout Season 8 and even though the character details are being kept quiet, the names themselves are exciting enough.
The one guest that actually got discussed and not just thrown out in a long list read off by executive producer Mike Barker was Danny Glover. Glover will be featured in the Christmas episode as some sort of evil demon hell bent on ruining the holiday. The installment will be another of the series' notoriously dark Christmas specials, with Glover leading the way in making it even more sinister, twisted and vile than previous years. As MacFarlane said, they are literally coming to rob the presents from your house.
The rest of the eighth season guest spots are even more exciting that Glover, well, at least to the Comic-Con crowd who recognized many of their favorite 'geek property' actors or alum including Nathan Fillion, Will Forte, Rupert Grint, Jon Hamm, Allison Brie, Sarah Michelle Gellar and Charlie Day. Like I said, an amazing line-up and the fans obviously went crazy for the Fillion and Gellar announcements. Too bad none of the guests were able to pop into the panel with many at the event for various reasons. Oh well, the list of names will have to do.
American Dad returns to Fox for Season 8 on September 30, 2012.
Your Daily Blend of Entertainment News