American Idol – Top Ten – From The Day That You Were Born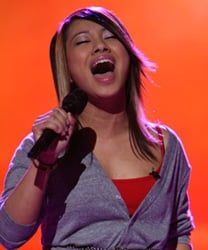 Knowing that the theme this week on American Idol was songs from the contestant's birth years, I thought I would do an experiment; I tried to pick a song from my birth year that I would perform if I was on Idol. After looking at the top singles from each contestant's birth years, I discovered two things: One, some years are better left buried, and two, it's a good thing the show has an age ceiling. So I guess I'll just have to wait until BTO's "Takin' Care Of Business" becomes available for "Rock Band" for PS3. Anyway, let's get to how this week's show played out.
Ramiele Mulabay –Tonight, we get a montage of what the contestants were like as children before thy hit the stage. She sings "Alone," which was the song that may have won Carrie Underwood the competition in 2005. Luckily for Ramiele, no one makes a real reference to Carrie's far superior version. Ramiele doesn't have Carrie's range, so she ends up screaming almost every big note. And then she's supposed to sing quietly, she ends up off key. This was a terrible song choice, and Randy is the first one to point that out. Paula (who sounds as sick as they claim Ramiele is) tries to complement Ramiele in a round-about way. Simon says she'll get through this week because even though she sounded like she was shrieking because it was better than last week. Simon and Randy then fight over whether this week or last week was worse, which is a losing argument for Ramiele no matter who wins that fight.
Jason Castro- It's actually Jason's birthday tonight. And he has always been musical, since he and his brother played fake keytars and guitars as kids. He sings "Fragile," by Sting. This is one of Gordon Summer's more obscure songs. The band arranges it like it's being sung in a Moroccan coffee bar. His voice is a little bit weak tonight, and there is nothing really all that special about this one. Randy says he wasn't impressed, Paula likes what he did, and Simon compares him to a subway performer, and that he's not taking the competition seriously. I think Jason just being lazy, knowing that for the next couple of weeks he's pretty much a lock to get until it's time for the top 5. Also his hippy-dippyness makes it impossible for him to be competitive. He's the kind of person who picked up the guitar because he didn't want the pressure of sports, so I don't know if he can take any contest seriously.
Syesha Mercado- She focuses on her goofiness and does her weird crying baby impression in her intro video. She sings "If I Were Your Woman." Her first note is very shaky, but once she starts the verse of the song, she gets back on solid ground. It seems she's better with actual words than with "oooh and woos," because when she sings the lyrics she's really good. So far it's the best one of the night. Randy can't put enough adjectives on the performance, saying it's amazing and blazing and the best she ever sang on the show, Paula says this is the performance that people will remember as her return to the competition, and Simon thinks she stretched the limit of her range tonight. She had already had some shaky weeks, so it is nice that she doesn't have to worry about being in the bottom three this week.
Chikeze- They show a baby picture of him, and I guess wearing bright orange is not a recent development, because even in that picture he has a blinding pair of overalls on. He sings "If Only For One Night." He picks a ballad this week, and once he starts he finally buries the horror that was his Lennon/McCartney performances. He is showing a nice R&B vibe, and he's looking right at the girls they put at the front of the stage when he sings too, which gives him an edge over Jason Castro's weird stare. Some of the notes are a little off, especially at the end, but he definitely does a good job. Randy thinks he sounded too old, and didn't love it, Paula calls it a throwback, but a good throwback, and Simon describes it as cheesy, and thinks that the girls in the front bit was not original. Original or not, if he can survive last week's harmonica solo, then he'll be fine this week.
Brooke White- Brooke is the oldest child in a ridiculously perfect blonde family. She sings "Every Breath You Take." She makes a misstep on the first line, but calls a do-over, and does fine. She does the song in the Tori Amos way that never fails to knock me out. She is also smart to try not to mimic the high notes that Sting used to hit. Randy thinks she should have not had the band come in, and she did ok, Paula is much more impressed this week than last, and Simon agrees that the band should have been cut, and thinks the first part was impressive. Everyone gives her credit for starting the song over after she messed up the first line. I never thought her overly-sunny attitude would have worn thin by now, but she is actually winning me over every week, especially if she's going to do the Tori-thing every once in a while.
Michael Johns- Michael was born in 1978, which makes him he oldest Idol on the show. His video shows he's a child of the 80s when he's in a photo with his sister's Cabbage Patch Doll. He sings "We Will Rock You/We Are The Champions." Since it was "Bohemian Rhapsody" that put him in this round to begin with, the choice is not a surprise. Wisely, the "Rock You" part is limited to on about 30 seconds. The "Champions" part is very impressive. At one point, instead of straining his voice, he just gives up on a note, which is brilliant. The girls are screaming so loud that they can't even get to the judges. Randy thinks it was Johns best showing, Paula says this was his moment, and Simon announces that Johns finally showed his star potential. I have been a fan of the Aussie since they first showed him, so I finally feel that I'm picking the right guy.
Carly Smithson- She was named after Carly Simon, because that's who was playing on the radio while her mother went to the hospital. She sings "Total Eclipse of the Heart." As good as Carly is tonight, the only problem is that she sounds almost too much like the original tonight. Like Jason, she knows that as long she doesn't totally junk a song, she's going to make it to the next few rounds. Her last note sounds like a mix of straining and illness, but over all it was fine. Randy thinks she picked the wrong song, and Paula shows support by saying Carly could sing just about anything. Simon thinks she was too tense and stiff, and that's why he didn't enjoy it. I thought she cruised this week, and she's going to have to challenge herself if she is going to be the final winner.
David Archuleta- He's concerned that he's going to miss the prom the further he gets into the show. They show him dancing as a kid, which shows that most home videos should be destroyed before someone goes on national television. He sings "You're The Voice." His tone is all over the place, and it doesn't help that I have no idea what this song is. David is singing it like he's the lead in a bad Broadway musical, and his voice is cracking like he's turning 16 as the song progresses. This could be his worst performance on the show. Randy says he has mad skills, Paula says the song choice for him doesn't really matter, and Simon tells him he didn't like it at all. It must be nice to be able to coast on so many previous performances. Anyone else and he'd be in the bottom three this week. One more like this and there might be a few less seats on the Archuleta bandwagon as we head to the Nokia Live Theater.
Kristy Lee Cooke- I've been looking forward to KLC's spot all night. For me, she has become the contestant to watch each week. Why? Because she is so terrible, you never know if this is the week she will finally be last, after being next to last week week after week. She sings "God Bless The USA." Oh, no, it's a dangerous combination of cheese and mediocrity. Idol is actually doing her a favor by putting that giant American flag behind her this week, because if you don't vote for KLC, the terrorists win. It's one of those songs that's so safe and boring, it's hard to find a fault. Randy says it was a nice choice, Paula likes it, and Simon calls her song choice "clever" and thinks the song will keep her around. Simon is totally right on this one, and I can't wait to see which political convention KLC will be performing "God Bless The USA" at this summer.
David Cook- He does Chris Cornell's version "Billie Jean." Ryan Seacrest has to make that distinction after Chris Daughtry's cover of Johnny Cash's "Live Version" episode last year. The problem is that I always think that Chris Cornell's cover is the low point of his career. This whole whisper/sing thing is not working for me tonight. Although, David does hit one big note that would make the Soundgarden frontman take notice. It's not one of my favorites, but it was OK. Randy now thinks David can win the whole thing, Paula is almost speechless and can't even sit down, and Simon calls him brave and amazing. As amazing as everyone is saying, I just hate the cover so much that I can't give the credit he probably deserves.
So it looks like little Hula Girl is heading out this week, and we get to play "How Bad Will Kristy Lee Cooke Be?" one more week (Yay!). As for the boy, the show is now interesting because David Cook is starting to overtake David Archuleta as the guy to look out for as the show goes on.
Your Daily Blend of Entertainment News
Thank you for signing up to CinemaBlend. You will receive a verification email shortly.
There was a problem. Please refresh the page and try again.