Andy Samberg Lets Slip He's Headed To BBC Series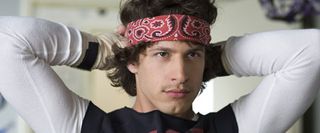 Despite Andy Samberg's hints for months that he was possibly going to leave Saturday Night Live, when the official word was passed down, I was still burdened with sadness. Samberg was never my favorite of the slew of SNL cast members appearing during his tenure, but his digital shorts paved the way for NBC's greatest late night production to make its way into the digital world. Now, it seems Samberg has allocated himself a role in a whole new type of television, as well.
If you've been to the movies at all in the last few months you've probably seen the trailer for That's My Boy, a new comedy where Samberg will star opposite Adam Sandler. At a recent screening for the upcoming film, which hits theaters on June 15, Samberg let slip some news on another, more unlikely project the comedian has in the works.
Samberg is set to appear in Cuckoo, an upcoming comedy that will air on BBC Three across the pond. According to Boston Herald, Samberg's role will follow him as an indolent dude who marries a British lady. In the series, trouble will arise after Samberg strikes the wrong chord with his new wife's father.
While I'd love to see the young man affect an accent for the series, I'm guessing the former sketch comedy star will be playing an American, since the Herald specifically pointed out the fact he is marrying a British woman on the show. Still, it's a good opportunity for the actor to find his footing as a celebrity in another country. Hopefully, the gig on Cuckoo will continue to lead to bigger and better things.
Your Daily Blend of Entertainment News
Thank you for signing up to CinemaBlend. You will receive a verification email shortly.
There was a problem. Please refresh the page and try again.