Anne Hathaway Guest Stars On The Simpsons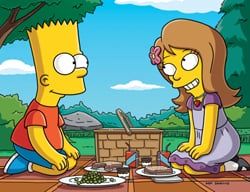 On this Sunday night's episode of The Simpsons, titled "The Good, the Sad and the Drugly," Anne Hathaway lends her voice in a guest role as Bart's latest crush. We have a video clip of Hathaway talking about her role in the show as well as her excitement over getting to be a part of one of her favorite series. We also have a couple clips from the episode so you can see Hathaway's voice in action.
The Simpsons airs Sundays, 8:00-8:30 PM ET/PT on Fox.