Another Look At HBO's Girls From Lena Dunham And Judd Apatow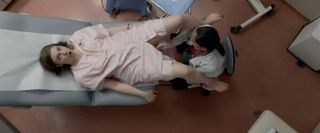 Only three days ago HBO gave us our first look (opens in new tab) at the upcoming comedy from the voice of a generation, well, a voice of a generation, Lena Dunham. The show is called Girls and the early advertising push continues for the Judd Apatow produced comedy set to debut next spring.
For those unfamiliar with Lena Dunham, she's the writer-director behind the Sundance breakout dramedy Tiny Furniture, which was so well received that they by-passed the traditional DVD/Blu release and are heading straight for the Criterion Collection. Well, la di da! Seriously though, it is very good film and rare since it's coming from a very unique and little represented voice, that of a confused, transitory and and neurotic young woman (and not one written by a man). It's also one of the more honest indies of the last few years and it seems that that same sensibility is being brought to the series.
Dunham's new show will follow a small group of poor 'girls' as they try to navigate their young professional lives in New York City. Other than that, I wouldn't imagine the show is too high-concept or plot heavy, more a slice of life look at this particular subsection of women struggling in the big city. Although this new look at Girls is, well, almost exactly the same as the first look, there are still a couple different jokes and looks that might help win you over. For those already won, well, it's just another enjoyable, if brief, look at the show.
After those two previews (despite not being one of those things, a girl that is), I am very much looking forward to this mumblecore comedy coming to the best network in the history of television. Hyperbole? No, it's HBO. (Dear HBO, if you decide to use that as your new motto I completely understand and only expect to be written in as the fourth friend in Bored to Death). Yes, some subject matter might leave the men watching a little uncomfortable (like that wonderful final shot of the promo) but come on, you forced your girlfriends to watch eight years of Entourage, it's time for a little estrogen in your lineup.
Girls debuts April 2012 on HBO. It stars Lena Dunham, Allison Williams, Angelic Zambrana and Chris Eigeman. It was created by Lena Dunham and executively produced by Judd Apatow.
Your Daily Blend of Entertainment News
Thank you for signing up to CinemaBlend. You will receive a verification email shortly.
There was a problem. Please refresh the page and try again.