Apartment 23 To Reunite Dawson's Creek's James Van Der Beek And Busy Philipps In Season 2 Premiere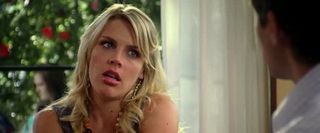 Cougar Town may be headed to TBS, but it looks like we haven't seen the last of Busy Philipps on ABC on Tuesday nights (or technically, one more Tuesday night.) It looks like we'll be seeing a mini-Dawsons Creek reunion this fall, as Philipps is headed to Don't Trust The B---- Apartment 23 in a guest starring role for the series' second season premiere.
TVLine posted the news, stating that Philipps is set to guest star in an episode of ABC's Don't Trust the B---- in Apartment 23. She'll play herself in the series' second season premiere. As James Van Der Beek plays a version of himself in the series, it seems only fitting that Philipps would do the same. TVLine says Van Der Beek will try to get his co-stars from Dawson's Creek to get together for a reunion. Will any of them besides Philipps show up? I'm sure fans of the 90's drama would love to see Joshua Jackson, Katie Holmes and/or Michelle Williams make an appearance on Apartment 23.
Philipps joined Dawson's Creek after I stopped watching the show, so my appreciation for the actor comes more from her involvement in Freaks and Geeks and pretty much everything I've seen her in since. So, while my enthusiasm for the Dawson's Creek reunion side of her appearance in Apartment 23 is pretty limited, Philipps as a guest star on the show is great news and even more reason to look forward to the series' return this fall.
Don't Trust the B---- In Apartment 23 Season 2 premieres Tuesday, October 23 on ABC. See ABC's full premiere schedule here.