Will Arnett And Ricky Gervais Will Appear On The Office Season Finale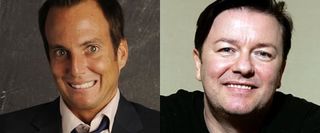 When Ricky Gervais suggested back in February that Will Arnett step in as Steve Carell's replacement on The Office, he quite possibly knew something we didn't. Entertainment Weekly is reporting that both Gervais and Arnett will appear in the show's season finale, and though the episode is still being written and there's no promise that either will actually wind up replacing Carell-- it's still hugely unlikely that Gervais will do it-- it's an interesting turn of events for sure.
Coming off his failed new show Running Wilde Arnett probably isn't the most famous name that they could find to replace Carell, but one that a lot of Arrested Development fans would be thrilled to see all the same. Arnett's characters are often abrasive and self-obsessed, which means he could fit into the Michael Scott "loud buffoon" spot at the Dunder-Mifflin office; then again, if they're trying to go a new direction for the upcoming season, it could be the wrong kind of fit entirely. The staff behind The Ofice has managed to be remarkably tight-lipped about what they're planning, so any speculation right now could be as wrong as anything else we've predicted over the last year. For now, let's just try and figure out how Arnett and Gervais could fit into the season finale-- visiting from another branch? Hostile takeover from Sabre? Speculate with me in the comments.
Staff Writer at CinemaBlend