Arrested Development Could Get 13 New Episodes, Not 10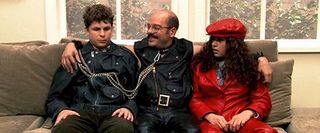 Arrested Development's return is getting closer by the day, and it seems there's more good news all the time for the show's fans. Resurrected by Netflix after years off the air, the comedy that Fox dropped is coming back in 2013, and today it sounds like there will be even more to look forward to than previously reported, according to star David Cross.
Originally reported to be a 10-episode season that will become available all at once on Netflix, David Cross told Rolling Stone that he doesn't think 10 episodes will cut it, and anticipates that we may see a 13-episode season instead. "There's too much story," he said. The original cast is all back together on the set and the new season sounds like it's as much fun for them as it will be for fans to watch. Of maybe not quite as much fun. It sounds like we'll get the show back just the way we left it; Cross says Netflix gave them a free hand in bringing it back to life. "They don't meddle at all," he said.
Cross has high hopes for the show's return, and the anticipation level has him quipping that he thinks "the grid is going to go down" due to the amount of power being drained by Arrested Development marathons across the nation. And now those marathons look to be 3 episodes longer than originally expected as well.
The show is definitely Fox's loss and Netflix's gain; since the announcement that the streaming service would be bringing it back fans have been waiting with bated breath for every bit of news. Now that it's really happening, the countdown is on.
Your Daily Blend of Entertainment News
Thank you for signing up to CinemaBlend. You will receive a verification email shortly.
There was a problem. Please refresh the page and try again.