Arrow Season 2 Finale Trailer And Photos Show Heroes, Tension And Big Trouble For...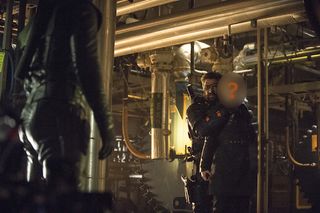 Next Wednesday night, the "Unthinkable" will happen... and maybe not just because the Arrow Season 2 finale is titled "Unthinkable." In fact, the title may very well be a major warning that something terrible is going to happen by season's end. Will Slade kill the person Oliver loves most? Or will Oliver kill Slade first? And who's the person Oliver loves most? Are we assuming it's a woman? Because we have Thea, Laurel and Sara in play, and of course Felicity, who I'm sure plenty of fans believe deserves the top spot on Oliver's list. Maybe this is one of those times when second (or third or fourth) really is the best...
Ok, hold on, we're getting ahead of ourselves. Before we get to the pictures from "Unthinkable," let's look at the trailer. Because there's this great hero shot right here...
Roy is on his feet, totally hooded up and in a mask! And on his right, is that Merlyn? He's a little in shadow, but it kind of looks like his outfit. Maybe it's Felicity dressed like Merlyn, because her outfit kind of looks like his... And then over on Arrow's left, we have Canary and Nyssa al Ghul.
Looking at the pictures, it looks like "Unthinkable" will be Arrow's most Spartacussy episode yet, what with Katrina Law (Nyssa al Ghul), Manu Bennet (Slade/Deathstroke) and Cynthia Addai-Robinson (Amanda Waller) all appearing in the same episode. Those familiar with Spartacus may be excited about the reunion, but let's face it, that series was a bloodbath, so this might not bode well for Arrow in terms of the anticipated body count.
Among the photos CW released for the episode, we have a standoff with Amanda Waller...
And it looks like Lyla's back too, which might affect Diggle's choices in the episode...
Among the Nyssa al Ghul pictures, it looks like Isabel may have met her match...
And going back to the Felicity situation, I really, really hate this particular angle...
It's not just that Slade has Felicity within neck-breaking distance. It's seeing Oliver standing there and knowing this would be an opportune time for Slade to exact some vengeance right before his old friend's eyes.
Here's the official episode description for "Unthinkable," which notes that Slade kidnaps someone close to Oliver's heart...
It's entirely possible that's Laurel (one of the photos in the gallery below shows her being held by one of Slade's guys. But it makes more sense if it's Felicity, mainly because she's always been the one to discourage Oliver from resorting to killing when facing an enemy. It's worth mentioning here too that I really loved how Felicity was utilized in the last episode, not only plowing the van into Isabel, but also being the voice of support and encouragement to Oliver. Without any special physical skills or abilities, Felicity still proves to be vital to the team beyond "just" her computer skills. I would hate it if anything happened to her, but I have to admit, seeing these photos of her in danger has me especially excited to see how "Unthinkable" plays out when Arrow's Season 2 finale airs next Wednesday at 8:00 p.m. on CW.
Image 1 of 25
Your Daily Blend of Entertainment News
Assistant Managing Editor
Kelly joined CinemaBlend as a freelance TV news writer in 2006 and went on to serve as the site's TV Editor before moving over to other roles on the site. At present, she's an Assistant Managing Editor who spends much of her time brainstorming and editing feature content on the site.