Awkward Showrunner Lauren Iungerich To Exit Series After Season 3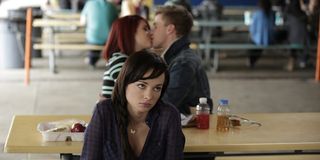 Few TV series capture the true spirit of how awkward and sometimes-funny, sometimes-miserable adolescence can be. Freaks and Geeks did it. The original In Betweeners did it. and MTV's Awkward has been doing it for more than two seasons. Awkward is actually on hiatus partway through its third season, with the second half of Season 3 set to debut this fall. The dramedy may be in for a bit more awkwardness come Season 4 as series creator/executive producer and showrunner Lauren Iungerich is reportedly leaving the series as of tomorrow when Awkward wraps production on its third season.
Information on Iungerich's planned departure from the show is scarce and vague right now. Deadline cites personal and professional reasons for Iungerich's decision to walk away from the series, though the site also says MTV characterized the parting as mutual, and their statement doesn't imply that she's leaving against their wishes, only that they appreciate what she's contributed to their original programming line-up.
It's really difficult to speculate what happened that led to this decision, though Deadline points out that Iungerich backed out of her comedy pilot Hot Mess at MTV a few months back. Whether or not these two situations are related is unclear. We can really only guess as to the full story here, and it could be due to any number of reasons on either MTV or Iungerich's end.
Regardless of the reason, Iungerich's exit is unfortunate news, considering how fresh and witty Awkward is and what a great addition it's been to MTV's original programming. Not only does the show tap into the humor and drama of being a high schooler, but it does so with a tone that seems as accessible to teens as much as it is to those of us who are far past our high school days but have not completely forgotten just how awkward it all was. Beyond that, the series' protagonist, the introspective Jenna (Ashley Rickards) has proven to be a bit unpredictable, occasionally fumbling her way through high school the way most kids do. She's not perfect, but she's likable and it's not hard to root for her, even when she does something we really wish she wouldn't do (see the end of the first half of Season 3!).
MTV's currently searching for a replacement showrunner for the "potential" fourth season (no official word on renewal yet). Hopefully they'll find someone who can tap into the heart and humor of the series. We'll be sure to keep you updated on that. In the meantime, below is the trailer for the second half of Season 3, which is expected to air in October.