BBC America Gets Lost In Spaced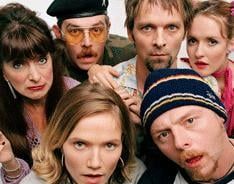 I know where I'm going to be this Sunday, and yes, it happens to be where I am every Sunday that I'm home—in front of my TV. This week, however, is different. Instead of just staring at WE's bridal shows in shock and horror, I'm going to be classing it up a bit and tuning into BBC America for Lost in Spaced Sunday.
Starting this Sunday July 20, at 3 pm, BBC America is showing six back-to-back episodes of Spaced, the brilliant sitcom from the Shaun of the Dead/Hot Fuzz crew. Spaced follows Daisy and Tim, a platonic couple who pretends to be involved in order to score the perfect flat. The six episodes were chosen by the stars (Simon Pegg and Jessica Hynes) as their favorites.
The series has been largely unavailable to American audiences, but is now finally being released on DVD this Tuesday, July 22. If that's too long to wait though, you can get started when BBC America begins re-airing the entire series starting Monday, July 21, at 3 am. They will be showing two back-to-back episodes per night, every day of the week. If you've managed to see Spaced before, it's definitely worth checking out again and getting on DVD. If you've never seen it, here's a brief idea of what to expect:
For more Spaced goodies, be sure to check out bbcamerica.comto see what the stars have to say about the episodes they picked.
Your Daily Blend of Entertainment News
Your Daily Blend of Entertainment News
Thank you for signing up to CinemaBlend. You will receive a verification email shortly.
There was a problem. Please refresh the page and try again.