BBC Working With Jim Henson Co. To Create New Puppet Show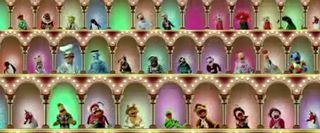 Last year, NBC bought a comedy that would star and feature puppets. Called The New Nabors, the show was going to feature humans living next door to some puppet creations. With all of the hullabaloo surrounding the more-than modest success of last year's The Muppets, it seemed as if puppets might be a hot commodity in the coming months. We haven't heard much from The New Nabors since, but whether or not the concept works out, BBC is greenlighting its own puppet show.
Like The New Nabors, the Jim Henson Co. is also on board for BBC1 project, which is tentatively titled No Strings Attached. The show will air during dinnertime in the U.K., where it will likely not be mistaken for the Ashton Kutcher and Natalie Portman flick of the same name. According to The Guardian, Danny Baker is on board to write the project, which will follow celebrity guests and a new cast load of puppet creations as they play games and indulge in sketches. Sounds like a real variety show and even--dare I say it?--potentially a little like The Muppet Show. I guess we will have to wait and see when the music plays and the lights are lit.
Additionally, Stephen Fry seems to have some ties with the filming of the pilot, which is like getting a real prize in a grab bag. I love the Jim Henson Co. and I'm hoping the upcoming show will be good enough to hop over to the States at some point, but like The New Nabors, I'll believe this will be a hit when I see it. Puppets are difficult to wield and hard to create, plus they stagnate a certain percentage of potential audiences. Luckily, I'm not one with the puppet prejudice and I'm hoping BBC1 watchers won't have that trait, either.