Battlestar Galactica Prequel Blood And Chrome May Be Shipped To Online Format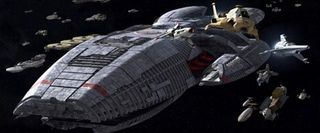 We knew it would be awhile before we got another Battlestar Galactica spinoff. Even though we've been hearing about a new Battlestar Galactica prequel since October, and Syfy was so impressed with Michael Taylor's script for the project they greenlit a two-hour movie for Blood and Chrome meant to lead into a full series, the work involved to put together the project is immense and Blood and Chrome isn't expected to appear until late 2011 or early 2012.
That is, if Blood and Chrome ever appears on network television at all. Syfy appears to be in no hurry to announce a release date for the movie, much less the series. In an interview with AOL TV, vice president of original programming at Syfy, Mark Stern, has even announced the network is weighing whether Blood and Chrome will appear as an online series or will be brought in as a backdoor pilot on the network, as was originally planned.
Blood and Chrome is a prequel series to BSG that will follow young William Adama as he learns about missions and people, as well as earns respect from his peers. The network may be hesitant because BSG's first prequel series, Caprica, was a bit of a failure. I'm sure it also doesn't help that BSG alum Ronald Moore isn't on board. Regardless, unlike Caprica, which was more of a legal drama replete with a science fiction setting and technology, Battlestar Galactica: Blood and Chrome will send its cast and storyline back into space. With many of the original series' writers and producers involved in territory they are familiar with, Blood and Chrome will follow a route that seems a little more surefooted than the last spinoff. If it is any good, viewers should commit to a series. The program has to be given the chance, first.
The good news is, there is already a rough cut of the Blood and Chrome movie, so at least we can confirm it is coming. If I were Syfy, I'd go ahead and give the series its backdoor pilot. If it doesn't do well, I'm sure they can readjust the budget and find Blood and Chrome an online fanbase. Let's hope it doesn't come to that.
Your Daily Blend of Entertainment News
Thank you for signing up to CinemaBlend. You will receive a verification email shortly.
There was a problem. Please refresh the page and try again.