Ben And Kate Cancelled, Fox Shuts Down Production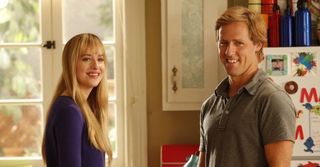 Earlier this week, things weren't looking so good for Fox's freshman comedy Ben and Kate, when Fox announced that they were pulling the struggling comedy from their Tuesday night line-up. Today, word is in that Fox has shut down production on the series and won't be completing the remaining episodes left in the 18-episode order it received.
Earlier this week, we shared the news that Fox had pulled Ben and Kate off the Tuesday night schedule, opting to add an extra episode of Raising Hope to the line-up to fill the extra half-hour in the coming weeks. That in itself was bad news for Ben and Kate, and seemed to hint at (but not technically declare) eventual cancellation. Today, THR reports that Fox has cancelled the show and shut down production. There were six episodes left for the first season and only three of them had completed filming. Fox won't be completing the final three, though THR says Fox previously announced that they will air the remaining completed episodes at a later date.
The show was averaging a 1.4 rating with adults 18-49 and 2.9 million viewers, which is certainly on the low side and apparently isn't enough to keep it around. It's a shame that the series won't, at the very least, finish up its first season. Granted, the comedy's still new but I wouldn't have minded seeing how things wrapped up for Season 1. Now we may never know if Ben ever gets his Rail Mall idea off the ground.