Ben Stiller And Bob Odenkirk Are Bringing The Birthday Boys To IFC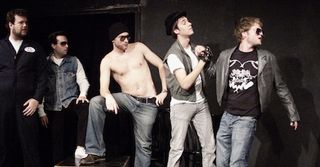 IFC has given the greenlight to a new sketch-comedy series executive produced by Ben Stiller and Breaking Bad's Bob Odenkirk. The Birthday Boys is named for the comedy group whose members will star in the series.
The show is said to be a classic scripted variety/sketch show like Monty Python or Odenkirk's previous project Mr. Show. The series will use real-life moments as well as "cultural touchstones" for laughs, and promises the combination of absurd and smart that has made some of the classics in the genre so successful.
The comedy group and stars of The Birthday Boys include Jefferson Dutton, Dave Ferguson, Mike Hanford. Tim Kalpakis, Matt Kowalick, Mike Mitchell, and Chris VanArtsdalen. Among the comedy credits for members of the the group are such shows as Parks and Recreation, The Office and Comedy Bang! Bang!. The Los Angeles-based group formed in 2007 and has been involved in the online comedy world as well as live, with a number of videos on Funny or Die. and appearances at comedy festivals such as Just For Laughs.
IFC, which has really come into the comedy spotlight in recent years with the hit show Portlandia, has ordered ten episodes of The Birthday Boys expected to premiere later in the year. It will join a lineup that includes Mr. Show and The Ben Stiller Show which Odenkirk also worked on. Stiller says he's "thrilled" to be working with Odenkirk again and declared the comedy troupe "too good to just be making viral videos." Odenkirk will co-direct the series with the Birthday Boys themselves.
Your Daily Blend of Entertainment News
Thank you for signing up to CinemaBlend. You will receive a verification email shortly.
There was a problem. Please refresh the page and try again.