Boardwalk Empire Just Gave Us One Of The Most Shocking Scenes In The History Of HBO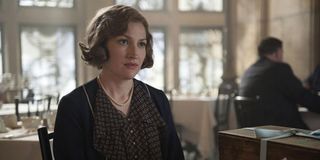 If you haven't caught the September 7th final season premiere of Boardwalk Empire, you may want to turn back, now. While this isn't a recap, it does contain spoilers from the Season 5 premiere.
Boardwalk Empire has always been a series about enterprise and chance, about men and women, but mostly men, and the careers that lead them on certain paths. Tonight, HBO premiered the fifth and final season of the acclaimed drama, and just a few minutes into the first episode of the season, the show put together an iconic and historically-tied scene that might just be the most mentally disturbing thing I've ever witnessed on television.
To provide some context, the unhappy and unfaithful Margaret spent the majority of last season toiling away at a low income job and going by the last name Rohan. Her boss was Mr. Bennett, a man who tipped her extra if she helped him sell shady stocks. Things were swell for Mr. Bennett, then, but in the Season 5 premiere the show has skipped ahead to 1931. The stock market has crashed and the pressure has gotten him down.
Bennett is a side character on Boardwalk Empire, a footnote in a cast of extraordinary and enterprising characters played by actors who are larger-than-life. Yet, he steals the entire episode, here, delivering a brazen and halting speech about Mickey Mouse and the prowess of the economy before pulling a gun from his pocket, holding it to his temple and squeezing the trigger. Here's an excerpt from the speech.
It's one of the saddest and most affective scenes television has ever produced. It's also one of the most shocking. For a drama that has produced deaths by the dozens, that regularly uses machine guns and bombs to destroy its characters and that has killed off some of its best and boldest, it's a testament to writer Howard Korder's skill that he manages to mesmerize us as we watch the final moments of a broken man.
It's his final words that say the most, his hands casually in his pocket, his eyes tired and attempting to reassure Margaret and the others who all seem to be waiting for something without knowing what that something is. "Oh no," he says, "Everything's going to work out fine." "Oh no, " he says, and pulls the trigger, leaving two generations of audiences for the first time with a real idea about what it meant to live and lose during the Great Depression. It's fucking impressive, and the thousandth reason you should watch Terence Winter's slow and hard series, even as it reaches its final, glorious, last gasping breaths.
HBO's Boardwalk Empire airs on Sunday nights at 9 p.m. ET.
Reality TV fan with a pinch of Disney fairy dust thrown in. Theme park junkie. If you've created a rom-com I've probably watched it.
Your Daily Blend of Entertainment News
Thank you for signing up to CinemaBlend. You will receive a verification email shortly.
There was a problem. Please refresh the page and try again.