Watch Nucky Sell Legal Booze In Boardwalk Empire Season 5 Clip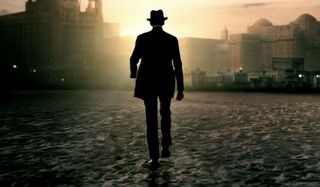 We are only one day away from HBO premiering the final season of its critically acclaimed drama Boardwalk Empire. The subscription cable network has already released plenty of footage for the final installation, but this weekend HBO released a clip that will make fans think about life after prohibition and highlights the time hop leading into Season 5.
It's no longer the Roaring Twenties in Boardwalk Empire. In the brand new clip, it's 1931 and the times, they are a'changing. Somewhat surprisingly, Nucky's relationship with Sally Wheet has survived the passing of time. In the clip, he's spending time with Ms. Wheet in a very warm environment. Since Season 4 sent Nucky to Florida for shady business dealings, it would make sense that Nucky still has interests in the South. However, HBO released a nice plot description along with the clip, and as it turns out, Nucky's in Cuba trying to forge ties and create a business for himself as prohibition is close to being repealed.
Nucky's very compelling in the clip as he discusses the potential repeal of prohibition, noting, "The day repeal passes, I intend to open for business, legally, in the thirstiest country on Earth." It's a convincing speech; unfortunately, it might require more than one speech to get the other guys in the clip on board. Instead of shady dealings with gangsters, Nucky is attempting to convince Bacardi Rum and U.S. senators that he has the goods to be a competent and reliable businessman. Plus, with Boardwalk Empire's Season 5 slogan being "no one goes quietly," I have trouble seeing Nucky riding off into a sunset, a crate of legal liquor in tow. On the other hand, maybe that would be a sneaky-perfect ending.
The clip only focuses on Nucky and Sally, but luckily, HBO has been magnanimous to offer us a few tidbits about where everyone else will be during the premiere.
It'll be interesting to catch up with the Boardwalk Empire characters seven years in the future. While events like Margaret and Nucky's separation and Chalky's daughter's death only happened a season or two ago, filling the seven-year gap should have been a tough but rewarding task for the show's writers. The season 5 premiere was written by Boardwalk Empire staple Howard Korder and directed by Tim Van Patten, who has also been around the block on the show. The questions they will have to answer are difficult ones. What have our characters been up to for the rest of the 1920s? How did they handle the advent of the Great Depression? Most importantly, though, I'm interested to see how the show's characters are still connected seven years down the road. Boardwalk Empire may be on its way out, but at least the series isn't phoning it in during this last season.
The fifth season of HBO's Boardwalk Empire will begin with the episode "Golden Days For Boys and Girls" on Sunday, September 7 at 9 p.m. ET.
Reality TV fan with a pinch of Disney fairy dust thrown in. Theme park junkie. If you've created a rom-com I've probably watched it.
Your Daily Blend of Entertainment News
Thank you for signing up to CinemaBlend. You will receive a verification email shortly.
There was a problem. Please refresh the page and try again.