Boardwalk Empire Season 5 Tease, Where No One Goes Quietly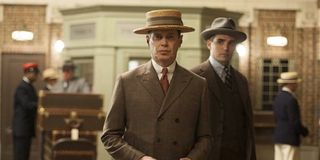 "All empires fall."
Even though it didn't kill in the ratings, Boardwalk Empire was one of the best shows on TV last year, and HBO's bootlegging drama will be back for its fifth and final season this fall. There are some spoilers ahead, but here's the first look at Season 5...
Since the Boardwalk Empire Season 5 tease is set to a cover of Harry Nilsson's 'One,' I figured you could listen to the original as you read the rest of the post.
The first look at this final season of Boardwalk Empire doesn't show too much footage – it is a tease after all – but the choice quotes still got me pretty excited. I love the 'all empires fall' and 'no one goes quietly' taglines, not to mention the one line delivered by Steve Buscemi's Nucky Thompson, because they all nicely sum up what should be a violent closing stretch for the often blood-soaked series. I'm still recovering from the loss of Jack Huston's Richard Harrow. Hell, I'm still recovering from the loss of Michael Pitt's Jimmy Darmody. To the lost!
As for the characters on Boardwalk Empire who managed to make it out of Seasons 1 through 4 alive, they will be put into the Great Depression with Season 5, set seven years after last year's finale. People will really need a drink. And Steve Buscemi's Nucky Thompson continues to be the man in Atlantic City to see about that, with prohibition still about two years from being repealed.
Sorry, too much of a history lesson can suddenly turn into spoilers. I will say that I'm surprised to see Terence Winter skip over the Atlantic City Conference, which saw Enoch 'Nucky' Johnson host a meeting of organized crime leaders in 1929. Perhaps, the writers will fudge the dates a little bit because it seems like too good of an opportunity to pass up. But I suppose that's what happens when you're suddenly faced with writing the final chapter of a long, true story.
And besides, Boardwalk's Nucky is always hosting the other crime heads anyway. There's even some footage of him at such a meeting in the new tease. The short HBO spot also shows off some of our other favorite characters – with quick shots of Vincent Piazza as Charles Luciano and Michael Shannon's Nelson Van Alden (aka George Mueller) and Stephen Graham's Al Capone – but 30 seconds isn't nearly enough time to properly preview the sprawling, period drama and its wonderful ensemble. It's just a taste of what's to come, and now I need the bottle.
Boardwalk Empire will return for its fifth and final season in September (Sundays at 9 p.m. ET) on HBO. Created by Terence Winter, the series stars Steve Buscemi, Kelly Macdonald, Michael Shannon, Shea Whigham, Vincent Piazza, Anatol Yusef and Michael Stuhlbarg.
Your Daily Blend of Entertainment News
Thank you for signing up to CinemaBlend. You will receive a verification email shortly.
There was a problem. Please refresh the page and try again.