Boardwalk Empire Season 3, Episode 4 - Blue Bell Boy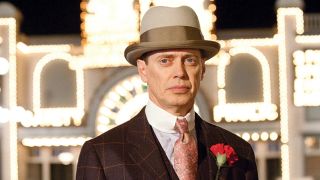 (Image credit: HBO)
Forget about Season 4, what about Episode 4? Obviously, news of Boardwalk Empire's renewal is more than welcome but let's not get distracted from all the action that still has to unfold over the next 9 episdoes of the current season before the prohibition drama moves on to the next. Who will be left standing once the dust has settled between Nucky and Gyp? Case in point, it seems like at least few people won't even make it out of this Sunday's "Blue Bell Boy" alive. Any major characters? Take a look at the preview...
Well, it looks like the Season 3 slow build is over with the preview for "Blue Bell Boy" full of quick cuts and dark settings, both hinting at a possibly explosive episode. First, we get to see the return of the Chicago gangster scene with Al Capone opening the tease (and setting the tone) with the tension filled 'shhh' before the action shifts to Lucky and Meyer (and Bugsy) in New York plotting their next move against Joe Masseria. And all that on top of what looks like Nucky, Owen and Mickey stuck in a sticky situation in the Gyp controlled Tabor Heights while Mr. Rothstein remains unhappily without his liquor. I wonder whose blood is falling through the cracks?
Boardwalk Empire returns with Episode 4, "Blue Bell Boy," Sunday at 9 p.m. ET on HBO. Created by Terence Winter, it stars Steve Buscemi, Kelly Macdonald, Michael Shannon, Shea Whigham, Vincent Piazza and Michael Stuhlbarg.
Your Daily Blend of Entertainment News