11 Shows You Should Stream If You Like Ozark, Starring Jason Bateman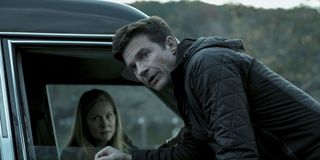 Remember when a family drama was defined as a series about a family of good-natured people struggling to overcome the obstacles of their environment? Well, considering the popularity of Ozark, starring Jason Bateman as the father of a family laundering money for a Mexican drug cartel, that definition is a rarity now.
The Golden Globe-nominated Netflix original hit is one of a longstanding trend of dramas that are now about seemingly good-natured people struggling to overcome the consequences of their self-destructive tendencies. There is something so addicting about watching despicable low-lives fixing to prolong a squeaky-clean reputation, and Ozark is just one example.
As you wait to see more of Jason Bateman and Laura Linney's "money problems" when Ozark returns to Netflix on March 27, if you are dying to indulge in more family drama -- in some cases, at its criminally darkest -- allow us to help you narrow down your search. These are 11 recommendations that make This Is Us look like Leave It to Beaver.
Bates Motel (Netflix)
Alfred Hitchcock shocked the world with one of the most unsettling killers in cinematic history, Norman Bates, portrayed by Anthony Perkins in the filmmaker's adaptation of Robert Bloch's novel Psycho. Inspired by Ed Gein (like many onscreen slashers were), you have to wonder how a guy got so messed up to commit murder while impersonating his dead mother.
Bates Motel, a modern day-set prequel to Psycho, makes the typically ill-fated attempts to answer that question, but instead makes for some deliciously dark and exquisitely performed storytelling. The series, which ran for five seasons on A&E, chronicles the uncomfortably close mother-son relationship between Norma (Vera Farmiga) and teenage Norman Bates (Freddie Highmore), who own and operate an old Oregon motel where check-out time ends up coming too early for some guests. Stream it on Netflix here (opens in new tab).
Bloodline (Netflix)
What earns someone the right to call themselves a good person? How far will someone go to protect their right to call themselves "good" and protect their family from a fate behind bars? Sometimes, people take it too far.
Behind the beautiful walls of their famous Florida Keys inn, the wealthy Rayburns are hiding dark secrets that even Sheriff John Rayburn (Friday Night Lights alum Kyle Chandler) will do anything to keep from getting out. The highly acclaimed Netflix series Bloodline, which ran for three seasons, earned a Golden Globe nomination for Ben Mendehlson's performance as Danny Rayburn, the black sheep of the family whose return home gives their lavish existence an expiration date. Stream it on Netflix here (opens in new tab).
Boardwalk Empire (HBO NOW)
For as good as the fictionalized criminal endeavors of Ozark do get, we understand that some of its biggest fans may also have a special soft spot for true crime. What might do the trick is this scripted HBO drama inspired by those who went to dangerous lengths all for a drink in the early 20th Century.
Boardwalk Empire stars Golden Globe-winner Steve Buscemi as Enoch "Nucky" Thompson, based on real-life Atlantic City politician Enoch "Nucky" Johnson who was convicted in 1941 for conspiring with the Mob to smuggle alcohol during the Prohibition Era, an alliance that also involved gambling and prostitution. Martin Scorsese serves as executive producer of this series that unveils the dark secrets of one of the most controversial periods in America's history. Stream it on HBO NOW here.
Breaking Bad (Netflix)
If you are a fan of Ozark, you are probably already a fan of this revolutionary AMC hit. In fact, I would be willing to bet that the reason you started watching Ozark was because of all the comparisons to Breaking Bad it received when it first premiered on Netflix. Well, I certainly cannot blame you for that.
When high school chemistry teacher Walter White (a four-time Emmy-winning performance by Bryan Cranston) is diagnosed with lung cancer, he teams up with former student Jesse Pinkman (a three-time Emmy-winning performance by Aaron Paul) to start a methamphetamine manufacturing operation in an effort to make money to leave to his family. Breaking Bad cemented creator, and former The X-Files writer, Vince Gilligan as one of television's most brilliant, and demented, storytellers by chronicling White's fascinating metamorphosis from simple family man to ruthless criminal mastermind over five seasons. Once your addictive binge is cured, be sure to check out Netflix's feature-length follow-up that puts Jesse in driver's seat, El Camino. Stream it on Netflix here (opens in new tab).
Colony (Netflix)
The intriguing irony of Ozark is how the Byrdes' criminal activity is actually instrumental in bringing them, somewhat, closer together. For most modern day family dramas, the result is usually the opposite, even in, say, the wake of an alien invasion, like in this exciting drama.
After an alien race has occupied Los Angeles into its own inescapable colony, Will Bowman (Lost alum Josh Hollway) reluctantly agrees to help take down a growing resistance movement, inciting divisive consequences it will have between him and his wife (The Walking Dead's Sarah Wayne Callies) and children. Colony, co-created by prolific producer Carlton Cuse, was cancelled by USA after three seasons, but has earned a small cult following for its fascinating, and culturally relevant, political themes that cleverly combine with a futuristic sci-fi tone. Stream it on Netflix here (opens in new tab).
Desperate Housewives (Hulu)
For years, there was no topic more popular at the office water cooler on a Monday morning than whatever happened the night before on Wisteria Lane. Creator Marc Cherry made ABC's primetime soap opera Desperate Housewives one of the most addictively suspenseful, and often hilarious, shows of the early 2000s.
After Mary Alice Young (Brenda Strong) mysteriously takes her own life, she becomes the narrator of the intricate lives of her friends and neighbors, including meek divorcee Susan Mayer (Teri Hatcher), ambitious career woman turned-stay-at-home mom Lynette Scavo (Felicity Huffman), luxury-obsessed former fashion model Gabrielle Solis (Eva Longoria), OCD-plagued housewife Bree Van De Kamp (Marcia Cross), and sex-crazed narcissist Edie Britt (Nicolette Sheridan), who all get tangentially wrapped up in twisted situations involving infidelity, power-hungry manipulation, and murder. Who knew one picturesque neighborhood could be home to such insanity? Stream it on Hulu here (opens in new tab).
Fargo (Hulu)
Joel and Ethan Coen became two of the hottest names in filmmaking for their Oscar-winning 1996 dark comedy Fargo, in which a financially desperate, Minnesota car salesman's (William H. Macy) disastrous ransom scheme gets the attention of an intrepid (and pregnant) police chief (Frances McDormand). There are more twisted stories of good Midwesterners gone bad where that came from in Noah Hawley's spin-off.
Each season of this multi-award-winning FX anthology series tells a new, star-studded story of cold-blooded, comical suspense in low temperature climates, including a hitman's influence on a meek insurance salesman, a young 1970s couple's fatal hit-and-run, and a struggling probation officer's failed attempt to rob his successful twin brother. Fargo is now entering its fourth season, starring Chris Rock as the head of a black crime syndicate in 1950s Kansas City, Missouri. Stream it on Hulu here (opens in new tab).
Narcos (Netflix)
To once again reference Breaking Bad in an article meant to have Ozark as the prime focus, in 2016, Walter White actor Bryan Cranston switched to the lawful side of the war on drugs as a U.S. Customs agent taking on Pablo Escobar in the true crime drama The Infiltrator. At that time, the Columbian drug lord was also a big name in television, thanks to this scripted Netflix original drama that chronicled his criminal exploits.
Narcos is a complex and chilling look into the violent conflicts between Pablo Escobar, and other various drug kingpins, and the law enforcement assigned to take him down, including The Mandalorian star Pedro Pascal as DEA agent Javier Pena. When you are done binging all three seasons, you might want to check out its spin-off, Narcos: Mexico, which is entering its second season on February 13. Stream it on Netflix here (opens in new tab).
Schitt's Creek (Netflix)
In addition to its disturbing suspense, Ozark is at its juiciest when Jason Bateman's Marty Byrde and his family experience a culture clash with the "redneck" locals, who actually turn out to be rarely what their stereotypes suggest. The redneck locals of the titular small town of comedy series Schitt's Creek are very heavily associated with their stereotypes, and hilariously so.
In the absence of their business manager, wealthy socialites Johnny (Eugene Levy) and Moira Rose (Catherine O'Hara) and their spoiled adult children David (Levy's real son Dan) and Alexis (Annie Murphy) suddenly lose everything, they must make themselves at home in their one remaining asset: the hick community of Schitt's Creek, which they once bought as a joke. In case you need some comic relief from your binge of dark family drama, this beloved rags-to-riches comedy, which is currently in its sixth and final season on Pop TV, is the perfect choice. Stream it on Netflix here (opens in new tab).
The Sinner (Netflix)
Shows like Ozark, Fargo, and Breaking Bad have taught us that sometimes a moment of desperation and a little push are all it takes to send even the meekest law-abiding citizens on a tenuous tightrope act above the law. However, this USA drama takes a more complex dive into answering the question as to why ordinary people suddenly turn to crime.
Bill Pullman's Screen Actor's Guild Award-nominated role as Detective Harry Ambrose is the connective tissue of this anthology series about bizarre crimes committed by unlikely suspects, such as Jessica Biel's Season 1 character, unable to explain her brutal murder of a stranger. The Sinner, which will premiere its third season in February, is a shocking mystery thriller that will keep you obsessively guessing until the end of each story. Stream it on Netflix here (opens in new tab).
Jason Bateman sure is great at playing a family man whose life is turned horrifically upside-down by money problems (and I'm just talking about Arrested Development), but whenever your addiction to Ozark needs a remedy, these 11 other series should be a great alternative. Be sure to check back for more updates on the Midwestern-set crime drama and other streaming recommendations here at CinemaBlend.
Jason has been writing since he was able to pick up a washable marker, with which he wrote his debut illustrated children's story, later transitioning to a short-lived comic book series and (very) amateur filmmaking before finally settling on pursuing a career in writing about movies in lieu of making them. Look for his name in just about any article related to Batman.
Your Daily Blend of Entertainment News
Thank you for signing up to CinemaBlend. You will receive a verification email shortly.
There was a problem. Please refresh the page and try again.