11 Shows You Should Stream If You Like HBO's Chernobyl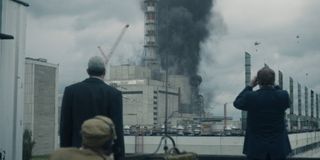 The explosion of the Chernobyl Nuclear Power Plant is one of history's most infamous catastrophes, having been the focus of several realistic dramas, and even a highly fictionalized horror flick. Yet, no depiction of the tragedy has been as realistic or horrific as the 2019 HBO miniseries, Chernobyl.
Creator Craig Mazin's Golden Globe-winning, five-episode event was watched by millions of viewers brave enough to witness the unsettling terror that brave Ukrainians had to endure in 1986 to safely evacuate Chernobyl following the explosion. The HBO series' sharp writing and brutal authenticity was enough to get people interested in history again, something we do not give television enough credit for these days.
There is plenty to learn from your favorite streaming services, through which you will find shows like Chernobyl that both educate and entertain. These 11 historical dramas are some of the best examples.
Band Of Brothers (Amazon Prime, HBO NOW)
Another one of the most acclaimed historical miniseries to air on HBO is this World War II era drama from executive producers Steven Spielberg and Tom Hanks, who had collaborated on the similarly harrowing war epic Saving Private Ryan. What separates Band of Brothers from that Oscar-winning drama is the inclusion of recorded interviews with the actual veterans who inspired the series.
Band of Brothers retells the experiences of Easy Company, the 506th Regiment of the 101st Airborne Division, from basic training, to D-Day, and all the way to the end of the second World War. Starring recognizable faces like Donnie Wahlberg, Damian Lewis, and Michael Fassbender, this Golden Globe-winner for Best Miniseries in 2002 is a fascinating and often heartbreaking 10-episode story of extraordinary tasks that ordinary men were forced to do. Stream it on Amazon Prime here (opens in new tab) or HBO NOW here.
Vikings (Hulu)
For years, The History Channel has been the premiere place on TV to watch nothing else but smart people recounting commenting on everything in history from the Renaissance to evidence that aliens built the pyramids. That was until the network introduced its first scripted series, Vikings, starring Warcraft actor Travis Fimmel as Ragnar Lothbok, a figure of Norse legend said to be one of the fiercest warriors of the 13th Century who seeks to explore, and conquer, distant places along with his Viking brethren.
From the creator of Showtime's King Henry VIII-focused drama The Tudors, the Emmy-nominated Vikings is an action-packed period drama, currently in its sixth and final season, that creatively imagines the time when taking control over land was as simple as taking candy from a baby… whilst equipped with swords and shields. Also, be on the lookout for the upcoming Netflix original spin-off, Vikings: Valhalla. Stream it on Hulu here (opens in new tab).
Hell On Wheels (Netflix)
In 2007, AMC really hit the ground running with their first original scripted series, Mad Men, which dramatizes the world of advertising in 1960s New York. For their next attempt at a period drama, they decided to go even further into the past, with a show focusing on the early years following the Civil War through the eyes of one angry former Confederate soldier.
Anson Mount (perhaps the most perfect name an actor cast in a western series could ever have) plays Cullen Bohannon, who, in order to find and punish the Union soldiers who murdered his wife, joins the development of the Transcontinental Railroad, hence Hell on Wheels. Musician/actor Common also stars as a freed slave working security on the railroad for four of this drama's five seasons that may be fictional, but paint an accurate portrait of America's uncivilized path to civilization. Stream it on Netflix here (opens in new tab).
Narcos (Netflix)
Netflix sure does love its true crime, as another series on this list will provide further evidence to. In addition to countless documentaries about the most notorious criminals in history, the streaming service also brought Columbian drug lord Pablo Escobar to Emmy-nominated glory with its original drama Narcos.
The three seasons of Narcos and its spin-off Narcos: Mexico, the second season of which drops February 13, follows real-life lawmen, such as DEA agent Javier Pena (The Mandalorian's Pedro Pascal), and the drug kingpins they trailed throughout the '80s and '90s. It is a complex and thrilling account of why America's war on drugs is such a fitting title. Stream it on Netflix here (opens in new tab).
Deadwood (Amazon Prime, HBO NOW)
As Chernobyl, Band of Brothers, and a couple soon-to-be-mentioned series may prove, HBO has often gotten lucky with its historical accounts. One of its most acclaimed, and accurate, examples is this short-lived, Emmy-winning western Deadwood.
Set in the 1870s in the titular South Dakota town where crime and corruption run deep, the series dramatizes the clashing lives of actual people who lived in Deadwood, such as lawman Seth Bullock (Timothy Olyphant) and saloon owner Al Swearengen (Ian McShane, who won a Golden Globe in 2005 for his devilish role). Deadwood's three seasons and 2019 feature-length sequel are a grim reminder that the Old West was certainly no picnic. Stream it on Amazon Prime here (opens in new tab) or on HBO NOW here.
Mindhunter (Netflix)
At this point, Netflix is practically the ultimate hub to satisfy your true crime needs, from both an original scripted film and four-part documentary on Ted Bundy to the story of the infamously honest Henry Lee Lucas in The Confession Killer. Of course, you have to wonder if those investigative series would have existed if not for the game-changing FBI agents who inspired the acclaimed crime drama Mindhunter.
David Fincher serves as executive producer, and has directed several episodes, of this Emmy-nominated series that depicts the controversial development of criminal profiling in the 1970s by two pioneer FBI agents played by Jonathan Groff and Holt McCallany. After only two seasons, Mindhunter has been put on indefinite hold, but hopefully comes back soon as fans are dying to see what other historical psychopaths will join the likes of Charles Manson and Son of Sam as the show's next interview subjects. Stream it on Netflix here (opens in new tab).
TURN: Washington's Spies (Netflix)
After the success of Mad Men and Hell on Wheels, AMC figured there was nowhere to go but even further backwards. This time, they optioned for a series centered on an especially pressing time in the history of the United States with an intriguing espionage twist.
British actor Jamie Bell leads the series as real-life American farmer Abraham Woodhull, who is recruited into Culper Ring, an organization under George Washington's order tasked with spying on the British Army at the height of the Revolutionary War. Over the course of four seasons, TURN: Washington's Spies reveals the untold story of how America's first secret agents became instrumental to officializing the country's independence. Stream it on Netflix here (opens in new tab).
John Adams (Amazon Prime, HBO NOW)
Of course, we cannot forget the debt of gratitude that America owes to John Adams, a prominent historical figure devoted to truth and honesty, even if that meant defending British Troops in the Boston Massacre trial during a time of great conflict within the Colonies. HBO's acclaimed miniseries chronicles the Founding Father's career as an attorney, diplomat, and the country's second president.
Emmys, Golden Globes, and Screen Actors Guild awards were given to Paul Giamatti for his performance in the title role and Laura Linney as his wife, Abigail, in John Adams, based on the Pulitzer Prize-winning biography by David McCullough. The seven-part 2008 television event is a beautifully acted and wonderfully told depiction of how John Adams had one of the most important roles in the history of the United States. Stream it on Amazon Prime here (opens in new tab) or on HBO NOW here.
The Crown (Netflix)
As for powerful dramas focusing on prominent historical figures in the United Kingdom, this Netflix original is one of its few docu-dramas that centers on a much less grim topic. The Crown chronicles the earlier days of Queen Elizabeth II's reign, during which the British Empire faces much political strife.
Both actresses to portray Elizabeth at different times in her life (Claire Foy for the first two seasons and Olivia Colman for the most recent third) have received Golden Globes for their performances, not to mention John Lithgow's Emmy win for playing former British Prime Minister Winston Churchill. The Crown is an expertly researched and impeccably acted retelling of Westminster Abbey and Buckingham Palace's histories behind closed doors. Stream it on Netflix here (opens in new tab).
Boardwalk Empire (Amazon Prime, HBO NOW)
Creator Terence Winter took a few creative liberties with this series that depicts bootlegging operations in Atlantic City during the Prohibition Era. However, don't worry. One of the biggest inaccuracies is some very loosely changed names.
Steve Buscemi gives a Golden Globe-winning performance as corrupt Atlantic City Politician Enoch "Nucky" Thompson, a fictionalized counterpart to Atlantic City politician Enoch "Nucky" Johnson who is known for conspiring with the likes of Al Capone and other mobsters to smuggle alcohol throughout its unlawful period. Martin Scorsese directed the pilot, as well as served as executive producer for all five seasons of Boardwalk Empire, a series that exposes how far people would go for a drink in the 1920s. Stream it on Amazon Prime here (opens in new tab) or on HBO NOW here.
Ripper Street (Netflix)
Film and TV audiences have a deep fascination with unsolved crimes, the fact that Jack the Ripper has been the subject of countless works of fiction being one prime example. However, what sets Victorian crime procedural Ripper Street apart from other TV series inspired by London's most notorious murderer is that it takes place years after his reign had ended, but his ominous presence in the streets of London remained.
Ripper Street, which lasted five seasons on BBC from 2012-2016, follows the police district of Whitechapel as they struggle to maintain order in late 19th Century London in the aftermath of Jack the Ripper's elusive killing spree. The series is a fascinating depiction of how the criminal justice system operated in the past, as well as an intriguing commentary on the distressing ripple effect of violence. Stream it on Netflix here (opens in new tab).
History buffs need not rely on their encyclopedia to quench their thirst for knowledge any longer but, instead, just a couple of streaming service subscriptions. Be sure to check back for more updates on fact-based TV series and other streaming recommendations here at CinemaBlend.