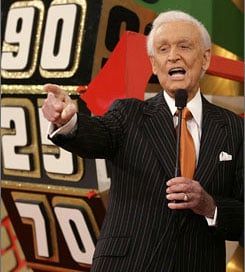 American institution and television mainstay Bob Barker made his final journey today to the stage of 'The Price Is Right.' At the ripe young age of 83, Mr. Barker has finally decided to retire permanently as host of the 35-year old game show after spending nearly 50 years in show business.
The game show legend has won 17 Emmys and is nominated this year for another two. Barker estimates he has given away over $300 million in prizes including, "A brand new caaaaar!" In 1998, after taping his 5,000th episode, CBS renamed Stage 33 at Television City in Hollywood, the "Bob Barker Studio." Today will be the 6,586th episode.
After petitioning studio executives in 1987, CBS finally allowed Bob to stop coloring his hair and to simply go gray. Ratings never slipped a bit. An animal activist for many years, Barker always concluded the show reminding viewers to "Help control the pet population; have your pet spayed or neutered."
CBS will repeat the final Barker broadcast on its primetime schedule tonight. As for a replacement, none is possible but a search continues and has yet to be named. Possible contenders include the perpetually tan George Hamilton, blandly pleasant John O'Hurley, brash big mouth Rosie O'Donnell and the terminally sexy Mario Lopez. None could hold a candle to Bob Barker.
Your Daily Blend of Entertainment News
Thank you for signing up to CinemaBlend. You will receive a verification email shortly.
There was a problem. Please refresh the page and try again.