Book Review And Give-Away: Neptune Noir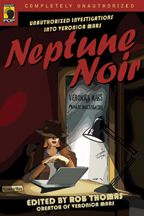 I love to read but between my job here at Cinema Blend, my other job and the hours I spend watching TV, I don't get much time to devote to books anymore. When the folks at BenBella books contacted me and asked me if I'd be interested in reviewing one of their new publications, titled "Neptune Noir: The Unauthorized Investigations Into Veronica Mars," I decided to give the book a look. 'Veronica Mars' was on hiatus at the time so what better way to get my 'Mars' fix than to read about it? I was expecting to read a series of essays about why the series is so great. Seeing as how I already know the show is great, I wasn't sure the book would have anything to offer me. What I found was that this book is about so much more than just loving the show. The writers who contributed to the book don't just "love" the show. They "get" the show.
"Neptune Noir," which is edited by 'Veronica Mars' creator Rob Thomas, is a collection of essays that looks at just about every aspect of the first two seasons of what is easily one of the best shows on television today. The contributing writers come from a variety of professional backgrounds. From professional novelists, to psychologists and professors, each writer offers their own unique perspective on 'Mars.' That said, despite their education and professional backgrounds, none of the essays read like college textbook material. In a nutshell, what the book does is peel away the series, layer-by-layer, exposing the sheer brilliance of the show and it's characters. Simply put, if you already love 'Veronica Mars,' "Neptune Noir" will make you love it even more.
Each chapter starts with an introduction written by Rob Thomas. He offers a few paragraphs of commentary on whatever subject is being addressed by the writer. Thomas' personal insights on what is being said about the series serves to add a sort of stamp of approval and in some cases, a bit of background information on the creation of the show and how it all came together.
While each chapter analyzes a different aspect of the series, most of which center on Veronica's character and more specifically, the relationships that she has with the supporting characters, the level of enthusiasm that each of the writers has about the subject is fairly consistent. These people love this show. This much is evident not only by the way they write about it but more importantly by the time and thought that each writer put into their subject. Specific examples and episodes are cited to back up their insights.
I could review the book chapter by chapter for you but that would take way too long so instead, here are a few of my favorite chapters:
Chapter: Daddy's Girl
Written by: Joyce Millman - freelance writer, founding staff member and TV Critic for Salon.com
Synopsis: Millman breaks down the relationship between Keith and Veronica, describing it as a love story between father and daughter. Though she states that she's not implying anything "icky" when she speaks of the sexual undercurrent in their relationship as well as the husband and wife roles these two sometimes play when taking care of each other.
Sample Quotes
"Veronica and Keith's pantomime marriage is all subconscious of course. But it sets in play very real actions and emotions. Jealousy arises when they begin to seek romantic partners; they have difficulty relinquishing ownership of each others affections."
"The show provocatively acknowledges and explores the enduring theory that the quality of a girl's romantic attachment to her father set the stage for all of her future relationships with the opposite sex."
Chapter: Boom Goes the Dynamite: Why I Love Veronica and Logan
Written by: Misty Hook, Ph.D. - Licensed Psychologist
Synopsis: Dr. Hook analyzes Logan and Veronica's relationship. She breaks down their chemistry, body language and shared experiences. She finds parallels between their personal histories, including their families and explains why they're so easily drawn to one another. As a fan of the Logan and Veronica relationship, I felt that Hook really pinpointed all of the reasons why these two are so great to watch on screen together.
Sample Quotes
"The audience was supposed to hate Logan for all the horrible things he had done and was doing to Veronica but you couldn't help but want to see more of the two of them together; there was the sense that their mutual animosity wasn't telling the whole story"
"Although there are other couples who possess good sexual chemistry, I can think of no other couple who responds so completely to one another at such a basic physical level. Kristen Bell and Jason Dohring deserve the credit here, as we can almost see Veronica and Logan's relationship unfold through only their body language."
Chapter: Innocense Lost: The Third Wave of Teen Girl Drama
Written by: Samantha Bornemann - freelance writer and novelist
Synopsis: Bornemann compares and contrasts Veronica's character with two other fantastic teen-drama protagonists: Buffy Summers ('Buffy The Vampire Slayer') and Angela Chase ('My So Called Life'). My love for this chapter comes largely in part due to the fact that I love both 'Buffy' and 'Life' and consider them to be two of the best teen drama series ever written. So its easy for me to see why Bornemann would consider 'Veronica Mars' to be the third wave in teen girl drama. Rob Thomas did what Whedon ('Buffy') and Holzman ('My So Called Life') also managed to do by creating a character that many of us can love, despite her flaws and identify with, despite some of her more unique attributes and personal experiences.
Sample Quotes
"The Veronica we meet is a survivor, a kind of second draft cobbled together in the aftermath of losing Lilly, her mom and control over her own body. But she's also a rebuilt Angela Chase. In the show's hazy, overexposed flashbacks, we saw that Angela and Veronica began their high school years on similar terms. Both had two parents at home and spent their days chasing after a wild, exciting best friend."
"'My So-Called Life' and 'Buffy' indulged and awoke our inner teens by putting the feelings of adolescence front and center. They taught us the teen girl story, the recurring beats, milestones and conflicts, and we bring that understanding and its related assumptions to our experience with Veronica."
As I said, I could review every chapter of this book because each writer really does bring an interesting perspective of the show to the table. Instead, what I'm going to do is offer two lucky 'Veronica Mars' fans a free copy of the published book.
Contest Rules
To enter the Cinema Blend – "Neptune Noir" book give-away, send an email to Contest(at)Cinemablend(dot)com. You must put VERONICA MARS: NEPTUNE NOIR CONTEST in the subject line of your email. Emails MUST be received by Saturday, 5/19/2007. Two winners will be chosen at random and sent an email requesting their mailing address.
Additional rules: Cinema Blend staff members are ineligible to enter. We can only ship to addresses in the continental U.S. so only entrants with a US mailing address can participate. No purchase necessary. Failure to comply with the rules will result in your disqualification from the contest.
If you'd rather skip the contest (or if you're not one of the lucky winners) and would like to purchase a copy of "Neptune Noir: The Unauthorized Investigations into Veronica Mars," you can purchase it here..
Your Daily Blend of Entertainment News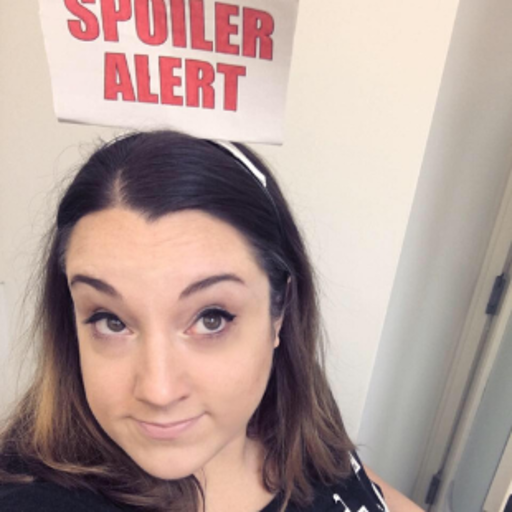 Assistant Managing Editor
Kelly joined CinemaBlend as a freelance TV news writer in 2006 and went on to serve as the site's TV Editor before moving over to other roles on the site. At present, she's an Assistant Managing Editor who spends much of her time brainstorming and editing feature content on the site.