Brace Yourselves: Sherlock May Return With A 2014 Christmas Special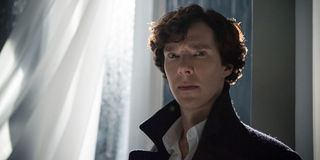 Hey Sherlock fans: turns out that the requisite years of waiting between seasons may not come to pass in 2014. The BBC is reportedly in talks to fast track new episodes of the highly successful series, meaning we may well get a Holmesian miracle this Christmas. Joy to the world, indeed! Steven Moffat and Mark Gatiss have come to save us all. How many days is it until December 25th, 2014?
At a BAFTA screening for the season three finale, Moffat was quoted as saying he wanted the series to be made "as quickly" as possible. Something all fans would agree to, considering the torturous two year wait that was endured between seasons two and three. According to UK news outlet The Sun, the main men at the BBC are positively salivating at the ratings potential for a Christmas special — a very traditional affair for UK television series. Most all of Great Britain's series get the holiday treatment for one-off episodes, including US favorites Downton Abbey and Doctor Who.
Plus it seems like the fast tracking is something everybody wants — not just the network heads. The series' creators, Moffat and Gatiss, have already confirmed that ideas for the already-confirmed fourth season and a highly likely fifth have already been sketched out.
Though its stateside run doesn't begin until this weekend (it premieres Sunday on PBS and we here at Cinemablend will be recapping the lot of it for you), this year's season of the mega-hit show pulled in beaucoup viewers this year in the UK, including an estimated 10 million for Sunday night's season finale, "His Last Vow."
Unfortunately, the biggest holdouts are the series stars — Benedict Cumberbatch and Martin Freeman — who have quite robust careers on their shoulders as it stands. "Benedict and Martin are apparently in movies!" quipped Moffat. "So we've got to schedule around them, but we'll get them made as quickly as we can."
That said, with a little bit of elbow grease and clever planning, anything is possible. As series producer Sue Vertue added: "We're working on it - it's dates."
That doesn't mean it's confirmed, though, as Moffat has noted: sometimes distance truly does make the heart grow fonder. "Sherlock started very well, the second series did better than the first and now the third is doing better than the second … It shows the benefits of starvation - put things on less often!" And while we agree, we're hesitant to lump Sherlock's level of starvation in with any sort of reasonable hiatus for a series, though perhaps that's our own problem.
US fans will be treated to Sherlock's three-part third season this Sunday, January 19th at the curious time of 9:58PM.
Your Daily Blend of Entertainment News