Braff: Final Scrubs Eps Might Never Air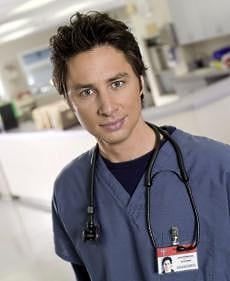 Scrubs star Zach Braff has some possibly disappointing news for fans of his NBC comedy. USA Today's Whitney Matheson is reporting that Braff sent out a MySpace bulletin this week expressing that the show's final episodes might never see the light of day if the writers' strike doesn't end soon.
Part of Braff's message read: "Many of you have asked about the fate of the final episodes of Scrubs. If the strike goes on too much longer there is a good chance they will never be written or shot and the series finale will remain in the mind of our show's creator, Bill Lawrence..."
Due to a shortage of scripts because of the strike, Scrubs, like many other shows, has had to cut its final season to just eleven episodes, six of which have already aired. Even though I think Scrubs probably should have ended last season, it's still a shame that fans probably won't get a proper ending to the show. The Hollywood Reporter reported that NBC asked Scrubs creator Bill Lawrence to write an alternate ending to the last episode of the first half of this season in case the strike caused delays. Lawrence opted not to follow NBC's advice, but has said he hopes to work out a deal to air a proper series finale for the show, even if it comes next season.
Braff also mentioned his appearance in the latest video for the Speechless campaign supporting the writers' strike. Watch the video here.
Scrubs returns to NBC with new episodes January 24.
Your Daily Blend of Entertainment News
Thank you for signing up to CinemaBlend. You will receive a verification email shortly.
There was a problem. Please refresh the page and try again.