Britney Nets HIMYM Its Highest Ratings Ever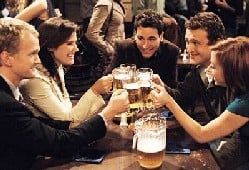 Oh, Britney? Is there anything you can't do? Well, besides provide your children with a stable home, dress yourself or buy a weave that doesn't look like it was on clearance at The Family Dollar? Er…well, apparently something Britney Spears can do is propel beloved sitcom How I Met Your Mother to its highest ratings ever.
Spears' guest stint on this week's HIMYM grossed the series 10.7 million viewers, up 1 million from last week's post-strike premiere of 9.7 million. While many people tuned in to see Spears in all of her trainwrecky glory, she did an admirable job holding her own. While her emoting reminded me of every high school play I'd ever been in or seen, and the up close and personal view of her weave track in HD frightened my unborn child, it was far from a disaster.
Having Spears on didn't cost HIMYM any credibility and new viewers tuned in for what ended up being a very funny and sweet episode. Even The Hollywood Reporter is going so far as to theorize that Britney may have even helped save the show, saying, "The second week of strong Mother ratings assures the one-time bubble comedy will be renewed for the fall." I'm not sure if I would say that HIMYM's renewal is now definite, but things are looking pretty good for Barney and the gang.
Your Daily Blend of Entertainment News
Your Daily Blend of Entertainment News
Thank you for signing up to CinemaBlend. You will receive a verification email shortly.
There was a problem. Please refresh the page and try again.