Bruno Heller Says Mentalist Fans Will Learn More About Red John In Season 5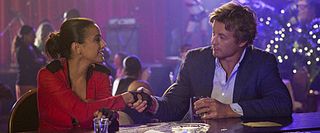 CBS' The Mentalist is a procedural through and through, but part of the show's intrigue doesn't come from its weekly 'catch a killer' plot. Instead, many fans follow the drama to see how the serial killer, criminal mastermind, and personal tormenter of the show's lead, Patrick Jane, will pop up and wreak havoc. So far, Red John has managed to thwart not only any attempt the CBI crew has put into effect to catch the man, but he's also managed to hide nearly every clue to his identity. According to executive producer Bruno Heller, all of that will change in the show's upcoming episodes.
Heller says Season 5 of the hit show will give fans many more clues to who Red John is and why he behaves the way he does. Heller recently caught up TV Line to announce fans who have stuck with the series since its inception will finally be validated with some serious Red John information.
Heller also noted fans who enjoyed Entourage's Emmanuelle Chriqui's performance last season will be happy to learn the actress's very bad character will still be on board during Season 5. She'll pop in several times throughout the season, no doubt doing some sort of evil bidding or other. I'm sure she won't be the only Red John minion we will meet, but she should be one of the more fun figures to watch.
CBS' The Mentalist is moving to a new timeslot this season. You can catch the show in its new Sunday slot beginning on September 30 at 10 p.m. ET.
Your Daily Blend of Entertainment News