CBS' Elementary Pilot Casts Jonny Lee Miller As Sherlock Holmes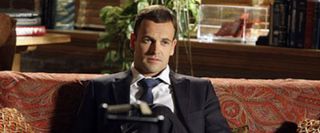 One of the best shows on television is BBC's Sherlock. The Stephen Moffat and Mark Gatiss modern day adaptation of Sir Arthur Conan Doyle's most famous creation has become insanely popular both in its native United Kingdom and, well, just about everywhere that the show has been broadcast or illegally downloaded. The series is a huge hit, propelling its leading man, Benedict Cumberbatch, into the (much deserved) international spotlight as well as spawning an inevitable American pilot.
The CBS pilot - although not actually a remake of the BBC series, a contentious fact that sparked some legal controversy - is called Elementary, my dear readers, and it has just cast British actor Jonny Lee Miller in the iconic, deerstalker capped role. THR reports that the actor, who is coming off a killer stint on Showtime's Dexter (but most famously known as Sick Boy in Danny Boyle's adaptation of Trainspotting), will lead the American modern retelling of Sherlock Holmes, a sleuth living in modern day New York and working as a private investigator.
Even though I am categorically against the CBS drama - for several reasons but mainly the fact that CBS denies they're remaking the BBC series when clearly that's exactly the case - they couldn't have found a better leading man than Miller. He's a great actor and I was (the only one) sad to see his short-lived Eli Stone series get cancelled. Oddly enough, he also just starred on the London stage with the BBC Sherlock (Cumberbatch) in Danny Boyle's stage adaptation of Frankenstein. I wonder if he consulted with his former co-star before accepting the job? Speaking of co-stars, the next big piece of the puzzle for the CBS pilot will be finding Miller's Holmes a Dr. Watson. If they wanted to change it up, it would be interesting to see them cast a woman in the role... but that's just my two cents. Who could you see at Miller's side?
Your Daily Blend of Entertainment News
Your Daily Blend of Entertainment News
Thank you for signing up to CinemaBlend. You will receive a verification email shortly.
There was a problem. Please refresh the page and try again.