Canadian Series Primeval: New World Added To Syfy's Lineup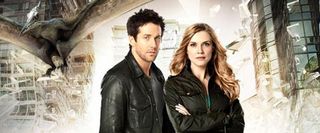 Those of you who are familiar with the British television program, Primeval, were either elated or likely bummed to hear a spin-off is in the works—at least, for Canadian TV. The announcement for Primeval: New World was made earlier this month, and the show is set for Space in Canada and Watch in the U.K. Now, the American network Syfy has made a deal, and U.S. audiences will get a chance to watch, too.
Syfy has partnered with Entertainment One to bring the series to the States. If you are interested to see how Primeval: New World will connect with its British counterpart, the show will have some of the same storylines and characters as the British show, but will also introduce new characters and will be set in Canada. Like Primeval, New World will follow scientists and a few animal handlers who battle past and future creatures when they enter the present. Ah, the hitches with time travel.
Primeval: New World wrapped up shooting in Vancouver at the end of July and will begin airing in the U.K. and Canada at the end of the month. According to TV By The Numbers, it will be a while longer before American audiences can enjoy the series. As per the deal, Syfy won't get to air the 13-episode series until 2013. This means Primeval: New World will be added to the roster around the same time another transplant series, Sinbad, begins airing. It really sucks when turnover times are so horrific, but I suppose that's better than never getting the series in the States, at all.
Your Daily Blend of Entertainment News