Carlton Cuse Sticks With Spirituality On ABC Pilot Stronger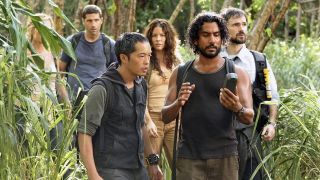 (Image credit: ABC)
There are many Lost fans who are still pissed about the more spiritual, less sci-fi direction the show took during its last few seasons. But the list of people who develop an involuntary twitch at the mere mention of magical glowing caves or evil wine bottles apparently does not include former Lost executive producer Carlton Cuse. New York Magazine's Vulture blog is reporting that Cuse has signed on to write and exec produce a potential ABC show called Stronger, and he'll be teaming up for the show with pastor/bestselling Christian author Rob Bell (Love Wins).
So what exactly is this foray into the spiritual all about? Well, Stronger will tell the story of a musician named Tom Stronger -- no, really -- who undergoes some sort of life change and becomes "a benefactor and spiritual guide." The show will be loosely based on Bell's real life: he began as a musician before founding Michigan's Mars Hill Bible Church. So maybe Highway to Heaven with fewer white-guy 'fros? Touched by an Angel without the cute British accent? All kidding aside, at this point it's not clear how much, if any, supernatural elements will play into the show. Given Bell's gentle brand of theology that eschews fire-and-brimstone theatrics, the show will likely be more than just a pulpit for moralistic finger-wagging.
Of course, doing a show that dips into spirituality in anything other than the broadest and most generic sense can be a tricky proposition. Bell's name will likely bring in a lot of church-goers, but then the risk is that the show will either be not "Christian" enough for the religious folks or "too Bible-thumpy" for the secular set. Cuse and Bell have their work cut out for them to find the sweet spot to address spiritual subject matter in an honest way.
Also, they totally need to change the lead character's name. I mean, "Tom Stronger?" Sweet jumpin' Jehoshaphat...
Your Daily Blend of Entertainment News