Castle Is Losing A Major Player, Get The Details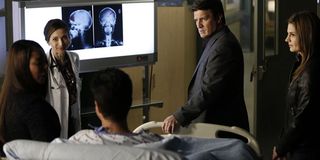 Well, we've known this could be a possibility for a while, but it's a possibility no longer. News broke this morning that veteran Castle actress Stana Katic is officially bowing out of the series at the end of the season. Caskett will be no longer—that is, if Castle even makes it all the way to Season 9.
Stana Katic, who plays Kate Beckett on the long-running ABC series, has been rumored to be out of the series for some time. Obviously, you would guess that would be a decision she would have to make on her own, but Deadline is actually reporting that ABC might be the reason for Katic's exit. She, along with Fillion, would need to re-up their contracts if Season 9 does get ordered, and reports indicate that Stana Katic was never given the option to come back by ABC. Her exit will be one of many changes should Castle move forward for Season 9.
If the show can live on without the Caskett relationship—and if the rumors are true ABC feels it might be able to—the show could live on for Season 9, although that season might be billed as a shortened final season, similar to what Fox is doing with Bones. Along with Stana Katic leaving, other Castle actress Tamala Jones is leaving at the end of Season 8. Reports indicate Jones was not asked to come back next season, either.
The news comes as Castle has had a tough season in the ratings. On several occasions, the show hit series lows, and people weren't particularly excited about a plotline involving Rick Castle and Kate Beckett splitting up for a time. The numbers have actually improved in recent weeks thanks to plotlines that have gelled better with the viewers, but if the show decides to write off or even kill off the Beckett character, I have no idea how longtime fans will respond.
Castle and Beckett's relationship has always been a major part of Castle. In fact, it could be argued that it's the most important facet of Castle. We have no idea if the decision was made simply from a budgetary perspective or if ABC just decided the storyline isn't working anymore. However, if Stana Katic is leaving, the end of Season 8 should theoretically be a pretty huge deal.
While ABC has opted to renew Agents of S.H.I.E.L.D. and a slew of other staples, Castle is not currently on the list. Instead, it's in limbo, along with several other shows like Agent Carter, Nashville and Galavant. We'll let you know as soon as ABC makes decisions regarding each of those shows. In the meantime, new episodes of Castle air on Monday nights at 10 p.m. ET, after Dancing with the Stars. Here's what else the networks have coming up this summer.
Reality TV fan with a pinch of Disney fairy dust thrown in. Theme park junkie. If you've created a rom-com I've probably watched it.
Your Daily Blend of Entertainment News
Thank you for signing up to CinemaBlend. You will receive a verification email shortly.
There was a problem. Please refresh the page and try again.