Celebrity Apprentice Power Rankings: Penn Jillette Leads Week 1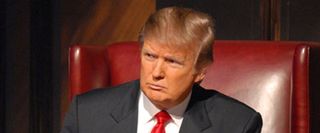 Season 12 of Celebrity Apprentice began in a nearly empty music hall where a small orchestra played for the cast and Donald Trump. Anyone hoping for a musical challenge in the first week was sorely disappointed. Instead, in a mirror of last season's kick-off pizza challenge, the men and women are split into separate teams and asked to make sandwiches.
At the start, the women's team seemed to be far more strategic and organized. Though they did have a few loose cannons—most notoriously Victoria Gotti, who showed up late for the first challenge—Patricia Velasquez took on the role of project manager and put the women to task immediately, setting up a celebrity-themed café and calling donors. The men were a whole lot less willing to step up to the plate. Eventually, the sly Adam Carolla nonchalantly mentioned Paul Teutul, Sr. would be the type of guy who was better off not leading. Teutul immediately responded that he could bring in half a million in donors and took on the role of project manager.
Despite Penn Jillette's efforts to swallow fire and generally please the crowd, it seemed like there might be trouble for the boys when people stayed outside to watch the show rather than head inside to buy a sandwich. The women were having none of these problems, with a steady stream of donations coming in. Nonetheless, it was the men who came through at the end of the challenge, with Teutul earning over $300,000 dollars from a single donor. Not quite half a million, but still, clutch.
The board room was a place of turmoil, and rightly so. Thanks to some careful editing on the part of Celebrity Apprentice's crew, it seemed highly likely that Valesquez had the challenge in the bag. When it turned out the women had lost, no one wanted to send the project manager home. One after the other, Victoria Gotti and Cheryl Tiegs were accused of not being team players. It was poor Cheryl who ultimately went packing, probably because of how slowly she unfolded pieces of cheese.
The Celebrity Apprentice Power Rankings are an ordered compilation of weekly lists put together by TV Blend writers Jessica Grabert and Mack Rawden. Each week after viewing the episode, they each rank the competitors in order. Seventeen points are given for a fist place vote, and this week, one was given for a last place vote. One competitor has already been eliminated; therefore, that person automatically occupies the bottom slot. Here is how this week's voting panned out, complete with analysis on how the celebrities might fare moving forward.
The Favorites
#1) Penn Jillette (31): While many people hung out on the sidelines this week, Penn was busy drumming up business. Half of exhibiting prowess in the early competition rounds on a reality show is showing up with ideas. The other half is following through on what you say you will do. Penn achieved both during the first round of Celebrity Apprentice, and he may be the only contestant this week to have done so. TV Blend expects more out of the man as the weeks roll on.
#1) Dee Snider (31): In some ways, it's probably unfair to place Dee Snider this high. He didn't really do a whole lot during this week's premiere episode, and when he did speak up, some of his ideas were shot down such as choosing sandwich names that conveyed why each team member was famous. Knowing all that, the Twisted Sister frontman should have ended up in the middle of the pack, but that's not all the knowledge Celebrity Apprentice fans have about Dee Snider. We watched him come in like a ringer for John Rich last season and nail his promotional video. Thus, we know when he's called upon, he's more than capable of coming through.
#3) Patricia Velasquez (30): Despite the fact Patricia lost this week's challenge, as a project manager she did delineate responsibilities, bring in many donors, and create a concept that brought people into the women's sandwich shop. Still, not bringing in the most money is a big deal. If Patricia cannot bring in enough money when the going gets tough, it's hard to see her winning Celebrity Apprentice, even with her lucrative management skills, although we expect her to do quite well in the weeks to come.
#4) Adam Carolla (28): Adam Carolla is famous for being funny. More importantly for this competition, he is famous for being quick on his feet. That's a byproduct of his years working on the radio and doing podcasts. You have to be able to come up with opinions quickly in that format, and that rapid fire brainstorming should serve him very well here. That's why I'm pretty sure he should be a valuable asset to any project manager. As for whether or not he can lead himself, we'll have to wait and see.
#5) Debbie Gibson (27): One episode in, it seems like Debbie Gibson has already found the perfect balance between tactful and assertive. You need to be a little aggressive to get your opinion heard, but you can't run over everyone else like a freight train without winding up in the boardroom after every loss. I like the line she's walking, and I like her chances at getting the women on the same page whenever she's project manager. As seen in previous years, that's not always the easiest task, especially when there are so many people left.
#6) Lisa Lampanelli (26): Lisa Lampanelli's bark is worse than her bite, mostly because her bark comes in the form of a carefully worded argument. Lisa comes off as a hard worker and a team player, which are good skills to have on Apprentice. However, her leadership skills are untried at this point. Like Adam Carolla, it is tough to know whether Lampanelli's skill sets will work for or against her as a project manager.
The Contenders
#7) Paul Teutel Sr. (23): The men won the challenge this week and they won it with an excess of money. It's sort of a slap on the face for Paul to appear this low on both of this week's lists. However, as project manager, Paul did not overtly delineate tasks, and he also did not push his team to bring in their own donors. If Paul hadn't had that one clincher of a donor, the men's team would have lost by a landslide. Plus, now one of Paul's hardcore donors has been called upon, it is difficult to determine whether he has the donors in his pocket to bring in that type of money, once again. Hopefully, in the coming weeks, Paul will continually prove us wrong. I'm not holding my breath.
#8) Teresa Giudice (19): I don't watch The Real Housewives Of Jersey; so, I had only a vague idea of who Teresa was entering the competition. I knew she'd written some bestselling cookbooks, but I was apparently way off base in thinking she was one of the less famous contestants. In fact, all of the women agreed she was the most recognizable, and the evidence backed that up. She brought a ton of people into the sandwich shop, and that ability to be seen and appreciated will serve her well in all the tasks that involve dealing with the general public.
#9) Arsenio Hall (16): Arsenio Hall mostly blended into the background this week, but given his status as a former late night host and cultural icon, I'm pretty sure he probably has a lot of very famous connections. Younger people have a tendency to forget just how influential and popular he was in the early '90s. It was his show that Bill Clinton appeared on to play the saxophone. Producing content night in and night out requires a strong work ethic and a superior intelligence, and I'm optimistic he'll be able to show that in the coming weeks. Since he essentially did nothing last night however, he's stuck in the middle of the pack.
#10) Clay Aiken (13): In a season chock full of funny men, the very serious Clay Aiken stands out like a light bulb in a darkened room. His problem does not lie in his customer service or his fundraising skills, as we saw him exhibit both as the cashier this week. Instead, his problem lies in fitting in with the team. If Aiken is unwilling to relax and let team members like Adam Carolla crack a joke every now and again, I don't foresee him being an effective manager. We will have to wait and see if Aiken loosens up in the next couple of weeks.
The Dark Horses
#11) Lou Ferrigno (12): Lou Ferrigno is a worker, and he's up for anything. It seems like every season there's a dude on Celebrity Apprentice who makes everything run behind the scenes. I have high hopes the Incredible Hulk will do just that. This week it was putting on a cutoff shirt and flexing to bring people into the sandwich shop. Next week it'll probably be carrying swords and battle axes twenty-five at a time into Medieval Times. If there's a job to do, Lou will be up for it, which is why I think he'll last a long time.
#11) Victoria Gotti (12): Victoria Gotti was the second woman Velasquez brought to the board room, after Cheryl Tiegs. It really is no wonder; Gotti did not raise very much money, she showed up to the challenge late, and Lisa Lampanelli caught her dealing with personal business while everyone else was calling donors. If it wasn't for Tiegs admitting she was a weak player, Gotti may not have been given this chance to redeem herself. However, Gotti is willing to fight to stay on the show. Now she needs to prove herself, I can see her fighting for a few more weeks.
#13) Aubrey O'Day (11): Aubrey might be one of the most petulant, selfish characters Celebrity Apprentice has ever encountered. Her claim to fame is singing, and she has proven she cannot handle the fact Debbie Gibson is more famous than she is. She would also rather have people focus on her looks and charms than work hard and put together viable ideas. The only reason she is not smack dab at the bottom of this list is because she is willing to fight for herself. That may only be the first step in surviving the board room, but at least it is a step.
#14) Michael Andretti (10): Michael Andretti is the quintessential wild card. His son, Marco, was originally supposed to be on the show. After the death of a good friend, Marco stepped down and his father took his place. Andretti is on the show because he believes in his charity, but it is difficult to believe in a leader that shows up quietly and works with even less pomp. It does not help that Andretti only showed up mid-episode. We will have to see how committed Andretti ends up being in the coming weeks.
#15) George Takei (8): Poor George was singled out by Paul for not being as aggressive as his fellow men. In many ways, Paul's continued shots at the former Star Trek star were pointless and unnecessary. Like everyone else, George put his head down and churned out sandwiches, but I do think his overall lack of overt passion will send him packing at some point. There's nothing wrong with being a bit shy and introverted. Those qualities are great, but all to often on Celebrity Apprentice, it's the contestant who's willing to be assertive that lasts the longest.
#16) Dayana Mendoza (8): Dayana was a rockstar in the first challenge. Apart from the project managers, she raised the most money. In theory, she should have ended up much higher on these rankings because of that. Unfortunately, most of the other people held back, not because they couldn't raise money, but because they chose to save their big guns. It doesn't seem like Dayana did that, which makes me nervous that she won't be able to raise money when her number is called in the future. Maybe she will. Maybe she has untapped resources, but by calling everyone in your phone on the first challenge, you can set yourself up for failure later.
#17) Tia Carrere (2): Tia did so well this entire challenge until she ended up in the boardroom, at which point she shoved her foot in her mouth twice. The first time was by telling Patricia it was okay if she brought her back to the boardroom after Patricia specifically said she wouldn't because Tia had been great. And the second time was by admitting she doesn't use strategy. It would be nice if everyone advanced on his or her own merits, but that's not how the game is played. You need to think ahead and position yourself for victory.
Here's a look at how the ballots shook out…
Swipe to scroll horizontally
Jessica:
Patricia Velasquez (17)
Dee Snider (16)
Lisa Lampanelli (15)
Penn Jillette (14)
Debbie Gibson (13)
Adam Carolla (12)
Paul Teutul, Sr (11)
Teresa Giudice (10)
Arsenio Hall (9)
Aubrey O'Day (8)
Lou Ferrigno (7)
Victoria Gotti (6)
Dayana Mendoza (5)
George Takei (4)
Clay Aiken (3)
Michael Andretti (2)
Tia Carrere (1)
Mack:
Penn Jillette (17)
Adam Carolla (16)
Dee Snider (15)
Debbie Gibson (14)
Patricia Velasquez (13)
Paul Teutul Sr. (12)
Lisa Lampanelli (11)
Clay Aiken (10)
Teresa Giudice (9)
Michael Andretti (8)
Arsenio Hall (7)
Victoria Gotti (6)
Lou Ferrigno (5)
George Takei (4)
Aubrey O'Day (3)
Dayana Mendoza (2)
Tia Carrere (1)

Row 0 - Cell 2
Your Daily Blend of Entertainment News