Chris Noth Is Too Big For Criminal Intent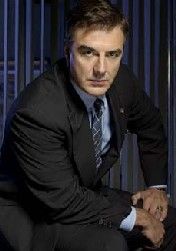 As I've mentioned many times before on this site, I'm a giant Law & Order fan. I go back and forth on which iteration is my favorite, but Criminal Intent has definitely taken the top spot more than once. So when I saw the news that Chris Noth is leaving the series (again) at the end of this season, I was pretty bummed out. The only thing that saved this news from being completely depressing is finding out who's going to be replacing the erstwhile Detective Logan: Jeff Goldblum.
Goldblum, whose last shot as a TV detective on the short-lived Raines didn't exactly pan out, is set to join Criminal Intent next season. Noth originated his role as Detective Mike Logan on the original Law & Order when it premiered in 1990. He left in 1995 after his character punched a homophobic politician and was demoted to Staten Island. He returned to the franchise ten years later after working on a little show called Sex and the City to split Major Case duty with Detective Goren (Vincent D'Onofrio).
Noth's departure fits in with the fluid nature of the franchise. He notes, "the show keeps morphing and always finds new people," But adds that, "I'm gonna miss everyone I work with every day." Noth is the fourth Law & Order character to leave the franchise in recent months. Jesse L. Martin left the original L&O, while Adam Beach and Diane Neal both left SVU at the end of the last season.
Thanks to Vincent D'Onofrio, Criminal Intent is definitely the quirkiest of the three Law & Orders; adding Jeff Goldblum to the cast is just going to up the ante. Series creator Dick Wolf says of Goldblum's addition to the cast, "Jeff is one of the most exciting actors around and is a perfect addition to the Law & Order: Criminal Intent ensemble...Jeff's presence will add a new dimension to an already successful show." As much as I enjoy Chris Noth and his character, Goldblum is an unexpected choice that should bring an interesting dynamic to the series' eighth season. I'm looking forward to the inevitable faceoff with Detective Goren.
Your Daily Blend of Entertainment News